That's Rad: New Vegas DLC Is PC-Bound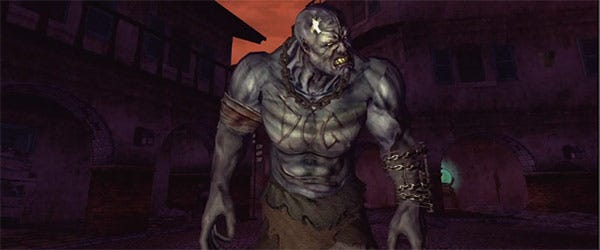 It's hard not to feel at least slightly :( when a series that began on PC apparently gives this old platform short thrift. Such was the case in December, when it appeared Fallout: New Vegas' DLC Dead Money had been greedily exclusivorised by the dark beast that is the Three Hundred And Sixtieth Xbox. Fortunately, such punishment of the faithful was only temporary.
Gentlethings, further post-apocalyptic adventuring awaits us after all. In which case, I shall rescind my earlier :( and replace it with a :)

God, I hate smilies. I regret using them now, to be honest. Oh well, too late now.
So yes: Dead Money is turning up on PC on February 22, which is a mere 12 and three-quarter months from now. Seems a long time to wait but... oh, this year? Right, that does make more sense. Yeah.
Dead Money will be released for the Steam and Direct2Drive versions of New Vegas right about then, and sees you held captive by some nutter who wants you to rob a casino for him. Like Ocean's 11, but with more jumpsuits, then? Anyone play it? How does it compared to Fallout 3's DLC?
Following that, there'll be at least three more DLChunks. We don't have names and dates, but I'm willing to bet they'll involve quests, guns and VATS. A bold assertion I know. I'm wild like that.
Finally, here's a Dead Money trailer to watch while you wait these 18 long days.