The Crew 2 drives, sails, and flies to March 16
More open-world racing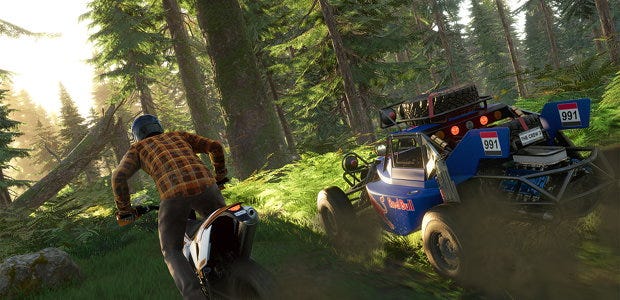 Open-world racing game The Crew 2 [official site] will whoosh out on March 16th, 2018, Ubisoft announced today during Gamescom. The sequel will return to a miniature version of the USA, but this time with so many more vehicles. Along with the usual assortment of cars, it'll pack planes, boats, and motorcycles from sports bikes to several actual Harley-Davidsons. I'm more a wanderer than a racer so getting to explore from new angles really appeals to me - especially the network of (semi-fictional) waterways which somehow span the entire country. For now, hey, look, it's the game's Gamescom trailer:
I don't know why Ubisoft want anyone to be excited about the "first gameplay trailer" when it's made of cut-up snippets from dramatic angles - and they have already shown nice big hunks of actual gameplay. Marketing is weird, man. I normally wouldn't fixate upon this but Gamescom (which technically hasn't even started yet) means I am a touch flooded.
ANYWAY. This video game looks like it could be quite fun. I look forward to racing through the many biomes of the USA's waterways. If we organise another cross-country trip like Adam and Brendy's race, I want in.
The Crew 2 is being made by Ubisoft's Ivory Tower studio with help from Massive Entertainment and Ubisoft's Bucharest, Paris, and Shanghai studios. Beta signups are open, if you fancy a chance at playing early.