The Detour Of The Beagle: Evolve Delayed
Pushed back to February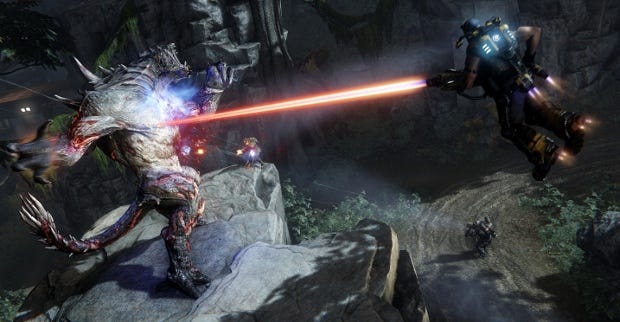 Evolve is the monster hunting co-op shooter from Turtle Rock, who were previously responsible for Left 4 Dead. In a big (perhaps) to prove that slow and steady does indeed win the race, TR have announced that the game will be emerging into view several months later than initially planned. October 21st was the precise date that everything was supposed to be ship-shape and ready to roar, but evolution cannot be rushed. It's end-point can, however, be fixed at another specific date in the future - this time it's February 10, 2015, which is the day before my birthday. Do I want to be eaten by beasties to celebrate the creakiness of my carcass? When I remember how much I enjoyed Left 4 Dead, I'm half-way convinced.
Evolve invited North Americans into a limited alpha recently and I've heard mixed things from people who played. Even the harshest critics admitted, after some persuasion, that there was potential in the monster hunting formula, and that extra testing and balancing might pay off. Perhaps it's those harsh critics that 2K and Turtle Rock have been listening to. President Karl Slatoff commented in an investor call.
"We are encouraged by the overwhelmingly positive response from press and fans, and believe by extending development by a few months, it will allow the team enough time to fully realize their creative vision for Evolve. Historically, we've always benefited from giving the creative teams more time to polish the titles; we've never regretted it."