The Flare Path: Pace Notes
Simulation & wargame blather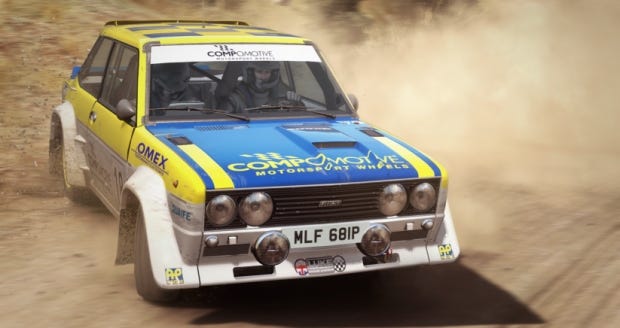 Right 6 into left 4 long, 100, left 3 over crest, bump, right 3 into right 6 over jump, caution, keep mid over jump, 60, dip, 100, left 2 tightens around DiRT Rally recommendation, don't cut, 50, crest, right 4 into left 5 long, 80, bump, right 6 into crest, right 5 into left 4, keep in, 100, hairpin left, 50, past Scourge of War: Waterloo news, left 4 into right 4, bump, crest, jump dull paragraph, immediate turn hairpin right, 120 past Order of Battle: Pacific words, left 4 over crest, 60, right 3, left 2, don't cut, right 3, caution, typographical error, hairpin left, 80, jump, keep mid, 80, caution, questionable statement, dip, left 3 into right 3 opens, caution, alarming alliteration, 100, keep in through dip, right 3 long, left 2, glib conclusion, jump maybe, 100, caution, foxer, left 4 into right 6, 80 to FINISH.
The Flare Path Word of the Week this week is hurtle. Thanks to Early Access DiRT Rally I've been hurtling a lot lately, and (channelling Marsh Davies for a moment) that's hurtling in both the modern sense of the word - to move at a tremendous lick - and the original Medieval sense - to crash into stuff. Many are the Welsh spruces, Greek boulders, and Monégasque retaining walls that now sport crimson paint scuffs and glass chip tiaras courtesy of my accident-prone Mini Cooper.
Blaming regular prangs on dubious physics or exaggerated topography would balm my battered ego but would be very unfair on Codemasters, the makers of this refreshingly serious/straightforward addition to the DiRT canon. There's not a polystyrene smash wall or rubber-caked doughnut zone in sight in DR. Rewinds, Baja buggies, menus masquerading as winnebagos... they've all been jettisoned to make room for rock-solid rally sim fundamentals.
Thus far I've done the majority of my rallying in the Issigonis-styled Jack Russell pictured above. Plausibly planted and pointable, and exhilaratingly eager, it's the perfect introduction to a driving model purged of much of the fuzziness and fudge that characterised DiRT 3. No, you don't get quite the high-res sophistication of a Richard Burns Rally or an Assetto Corsa - there will be moments when you lose control or accidentally put a wheel in a runnel when the forces feel slightly bogus, the communication from tyre and transmission a tad monosyllabic - but usually there's enough reality in evidence, sufficient differences between surfaces and vehicle types, to trick the inner ear and endanger bodywork.
A set of 36 beautifully realised stages spread across three countries make minor handling misgivings easy to overlook. Tearing through the dank mist-wreathed heart of a Welsh Sitka plantation, you can almost smell the trampled fungi and fragrant timber stacks. Clattering along a gravel-strewn Greek cart track, or pivoting round a slushy Alpine hairpin, transposition is guaranteed. Narrow, winding, and sprinkled with complex camber combinations and spectacular views, the stages really are DiRT Rally's crowning glory. It's almost inevitable you'll find yourself wishing they were a bit longer (most can completed in under ten minutes).
For an Early Access offering, DR is already remarkably structured and content heavy. Solo career mode offers the chance to compete in multi-stage championships with persistent damage and limited repair opportunities. The higher your finishes and the less time your team of hireable mechanics spend replacing and fixing components between stages, the more credits you earn at the end of a championship. Credits buy new vehicle types which in turn open up new championships/eras. All 17 rides can be test-driven via the custom event mode so there's no danger you'll end up squandering an afternoon's earnings on a machine that turns out not to suit your driving style.
Multiplayer competition comes in four flavours, all of which stay true to rallying's stopwatch-centred modus operandi. Codies provide open-to-all daily, weekly, and monthly challenges while player-created leagues permit cosier competition between smaller groups.
Over the course of the coming year, all users will be introduced to hillclimbing and rallycross disciplines. The 2015 timeline also hints at new free vehicle packs and venues. Hopefully, expansion development won't get in the way of engine tweaking and bug fixing. My complaints list is relatively short at present (No manual headlight controls. Limited gamepad configuration options. No mouse steering. Occasional freezes between events force Task Manager terminations. The brilliantly voiced co-driver sometimes gets a little ahead of himself...) but the impressive DiRT Rally still has a few bends to negotiate and ravines to avoid before it can be certain of victory.
****************************************
The 200th anniversary of the Battle of Waterloo fast approaches. I hope you've made appropriate plans for the big day. Personally, I intend to spend the morning of June 18 painting kilts in my soon-to-be-despatched Airfix Waterloo gift set (if there's time, sporrans and hackles may also receive attention), the early afternoon watching Rod Steiger brood, and the remainder of the day playing the latest Scourge of War offering.
Out on the 11th next month, Scourge of War: Waterloo is something of a departure for NorbSoftDev. After a decade spent crafting ACW wargames, the studio that emerged from the acrimonious ashes of MadMinute Games (Take Command: Bull Run, Take Command: 2nd Manassas) is finally experimenting with its unique real-time battle engine in a European context.
The success or failure of SoWW may well hang on how well that engine copes with Napoleonic peculiarities like infantry squares and cavalry charges. Whatever happens, SoW's unusually honest approach to army organisation (forces are hierarchical with lower ranking leaders receiving and interpreting orders from superiors) and order dissemination (messages are conveyed by interceptable couriers), means we're certain to wind-up with the most interesting and chaotic Waterloo depiction since Peter Turcan's 1989 type-em-up.
****************************************
Before DiRT Rally bundled me into a mud-spattered Mini and began hurling corners at me, I was happily dawdling my way through Order of Battle: Pacific's Allied campaign. This £30 Panzer Corps successor has, so far, managed to keep my Chronic Panzer General Fatigue at bay with an adroit mix of high-quality presentation, natty novelties (I'm thinking mainly of the new supply element), and excellent scenario design.
It's not easy to turn historical retreats and defeats into fun wargame scenarios, but somehow the Artistocrats mission moulders have managed it. By dotting early Philippines battles with tempting secondary objectives that reward doughty delaying actions and well-timed back-pedalling, and providing opportunities for small but cathartic counter-attacks, they make tactical withdrawals in the face of an irresistible Japanese invader feel both courageous and valuable.
Using similar techniques, the devs even succeed in turning the surprise attack on Pearl Harbour into an enjoyable experience for the US player. My abiding memories of my OoBP Day of Infamy: raising the alarm with a gallivanting jeep, manoeuvring scant AAA assets into positions of advantage, and hunting fleeing bombers through fleecy Fog-of-War.
****************************************
The Flare Path Foxer
Last week's en pointe principal was AFKAMC. The footsore corps de ballet comprised billy_bunter, Shiloh, AimHere, All is Well, phlebas and skink74.
(theme: Swan Lake)
a Curtiss O-52 Owl
b We're Gonna Hang out the Washing on the Siegfried Line (1940s card game)
c Swan Hunter logo
d Bolshoi Baltisky
e Publicity still from Odette (1950)
f Message from arcade game Crossbow (1983)
g Veronica Lake
h Staff from Loom
i Battle of Shiroyama, Satsuma Rebellion
****************************************
I hope Salisbury's returning officer likes foxers. Yesterday, as per usual, Roman indicated his preferred parliamentary candidate with a collection of sketches rather than a boring old cross. He was in the booth for almost an hour carefully drawing...
*A GPS-guided artillery shell
*Druids Bend, Brands Hatch
*An English Electric Thunderbird missile
*A LSWR N15 class locomotive
*Greg Stafford
*RN submarine P232
All answers in one thread, please.