The Gadget Show Plays BF3 Better Than You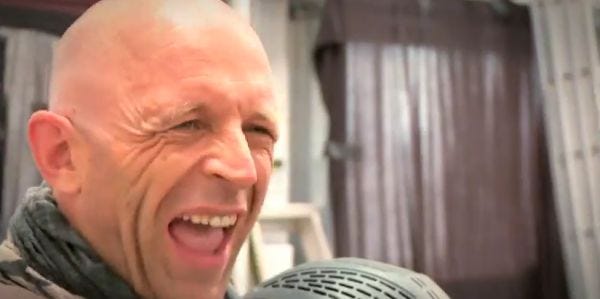 This is how I'm going to play all games from now on.
Channel 5's peculiar The Gadget Show decided to create the "ultimate simulator" for playing Battlefield 3. Which sounds like a recipe for the worst thing ever. Except, well, this is brilliant. Omni-direction treadmill floor, 180 degree HD projection, 800 LEDs of ambient lighting, hacked Kinects for pose recognition, and twelve paintball guns providing very realistic feedback of being shot. Which is bloody brilliant.
It's first played by Johnny-Minkley sound-alike Jason Bradbury, but then they bring an expert in... Andy McNab. Which sort of underlines this as a publicity exercise by EA for Battlefield, what with the claim that he supposedly has anything to do with it being shouted at any opportunity. But if you switch it off before the pompous idiot pretends he still can't show his face, while showing almost all of his face, it's a pretty good watch.
I'm also impressed by how they had a copy of BF3 at least six weeks before release, when EA refused to send copies to the British games press until release day.