The RPS Game Club pick for May is Citizen Sleeper
See you on the Eye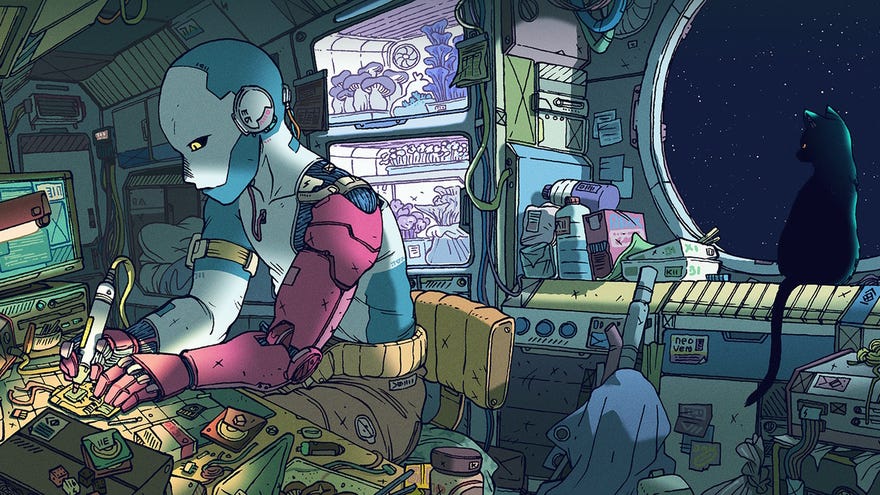 After an excellent discussion about dice and pizza making last week in our Betrayal At Club Low liveblog, we've decided (that is, I have decided) to stick with the dice-rolling theme this month to crown the excellent Citizen Sleeper as our next pick for the RPS Game Club. We named Jump Over The Age's dystopian RPG one of our favourite games of 2022 last year, and seeing as the game is also celebrating its first anniversary this month, it's the perfect time to return the rag-tag world of Erlin's Eye.
Citizen Sleeper casts you as one of its titular Sleeper androids who's on the run from an enormous megacorp. They've been indentured there for most of their life, but now they've found refuge in the half-ruined remains of a space station known as Erlin's Eye, and it's here that you'll gradually eke out a new life for your Sleeper by throwing dice and using them to perform a crop of actions each day to help them get by. You'll get to know the locals, discover hidden power struggles within its communities, and dig into a lot of tender and heartfelt stories during your time here, and it's easily one of the most beautiful and compassionate games I've played in a long while.
You can have a read of our Citizen Sleeper review to find out more about how its dice rolls work, and you can also have a gander at some of the more personal reactions we had in our Advent Calendar post. I myself have also been meaning to go back to Citizen Sleeper ever since the last of its free DLC episodes arrived the other week as well, so we'll be examining the game from all angles over the course of the next month.
If you haven't played Citizen Sleeper yet, now is a great time to jump in, too, as publisher Fellow Traveller have announced it will be getting a big discount on May 5th to mark its first anniversary, so make sure to head over to its Steam page then if you want to get a good deal on it. Its usual price is £16.75/€19.50/$20, but the anniversary discount will save you 33% on that, bringing it closer to £11/€15/$15-ish. It's also available on the Epic Games Store and GOG, and it's still in the PC Game Pass library as well if you're a subscriber. Citizen Sleeper is compatible with Windows and Mac devices, and is deemed 'Playable' on Steam Deck, though it's not fully Verified yet.
Of course, you don't have to buy and play Citizen Sleeper in order to participate in Game Club. As hinted above, we'll be writing a bunch of articles about the game over the next few weeks, and at the end of May we'll be hosting a liveblog session with all of you to chat about it in real-time. The liveblogs have been great fun so far for our previous picks, Hi-Fi Rush and Betrayal At Club Low, and I look forward to seeing plenty of you at the end of May for Citizen Sleeper.
So I hope you all have excellent adventures aboard the Eye this month, and we'll reconvene very soon for our liveblog chat. Enjoy!