Translating Ian McQue's art for The Signal From Tölva
Translating painting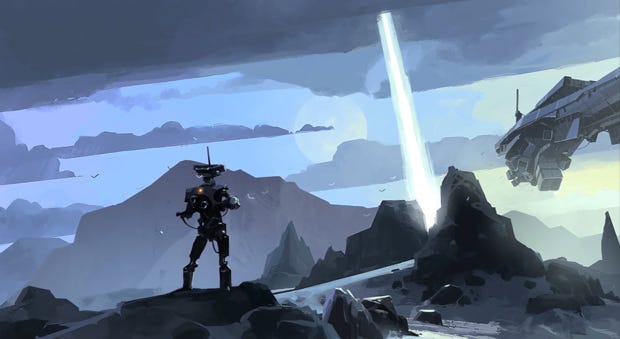 The Signal From Tölva [official site] - the upcoming game from the Sir, You Are Being Hunted devs (that includes Jim Rossignol, formerly of this parish) - has a new video where lead artist Olly Skillman-Wilson talked about the look of the game, starting with Ian McQue's concept art.
There's an accompanying blog post which delves a bit deeper into Tölva's visual language than the video can:
Good modelling is essential and a stunning texture won't save a bad model, but texturing drives a lot of Tölva's look and helps distinguish it from other games. It's also what was most clearly imitable from the concepts. We were fortunate enough to be given access to the list of secret brushes that Mr McQue utilises most frequently and to such effect, and using these able to create an automated process that streamlined the texturing of hundreds of assets.

We essentially created a system where I fed in my sculpts and a McQuevian texture was churned out for me to tweak and finesse. This worked by taking the right brushes in Photoshop and creating a tiling pattern with each, attempting to recreate a certain type of stroke or scribble that could be found in any given concept piece. With these 'master strokes' I could tile relatively convincing McQuvian patterns across a surface, tinting its colour, and using the pattern to break up the edges of masks in Photoshop.

Daub, dash, splatter, speckle, spray, smear, squiggle, strokes, crosshatch, and grainy swirl would become my best friends over the next 2 years. Grainy swirl was great for organic or noisy surfaces like mud or concrete, while crosshatch had a natural galvanized metal flakes look. Each pattern came into its own as I built a library of reusable materials from these tiling patterns.
I particularly enjoyed this example image, which is maybe kind of about creating robotic digits BUT also hints at being able to give the robot finger to someone.
Jim's game is being made by Jim's company, Big Robot, who previously released robot stealth and procedural countryside game Sir, You Are Being Hunted. John had a play of Tölva and wrote about it late last year.