The Sims 4's next DLC caters to the green-fingered and the basement dwellers
Plus a new patch has fixed hissing babies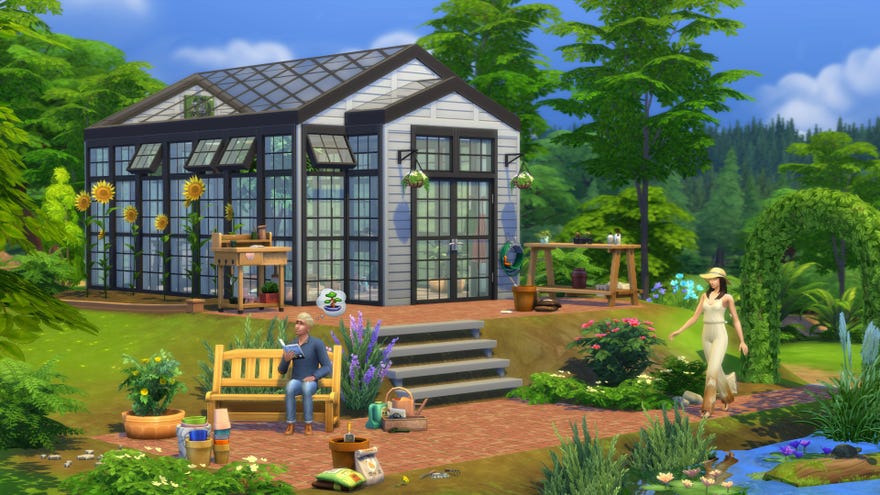 The Sims 4's next two Kits represent two very different parts of the home. The Greenhouse Haven kit is all about giving you new options for how you design your garden, while the Basement Treasures kit lets you cram your subterranean hovel with "lived-in furniture and sentimental decor." Both will launch on April 20th.
The packs were announced via Twitter:
Craft the ideal space for your green thumb 🌱 or bring life back into the worn down with the new The Sims 4 #GreenhouseHavenKit & The Sims 4 #BasementTreasuresKit 💚

Available April 20th ✨ pic.twitter.com/PdA5IdznUY

— The Sims (@TheSims) April 18, 2023
The Greenhouse Haven kit obviously lets you design your own greenhouse, with glass panel walls and seedling kits, planting tables and hanging flower baskets decorating the inside. The Basement Tresure kit is about objects that are grungy and old - thrifted finds, family hand-me-downs, and the like. Apparently Sims will be able to reminisce over "a milk crate of vinyl records", although frankly those seem more likely to be in the living room these days.
"Kits" are The Sims 4's smallest unit of DLC and contain no game-altering features. Instead, they're all-new items with which to help you design and expand different parts of your sims' homes.
While the kits arrive in a couple of days, there was also a new patch for The Sims 4 release today. It includes native support for Mac CPUs, new underwear options, new decor options for bathrooms, and several fixes detailed in the full patch notes. Highlight: checking your infant's teeth will no longer be "accompanied by vampiric hissing."