The surprising lives of Octopath Traveller's NPCs
This is your life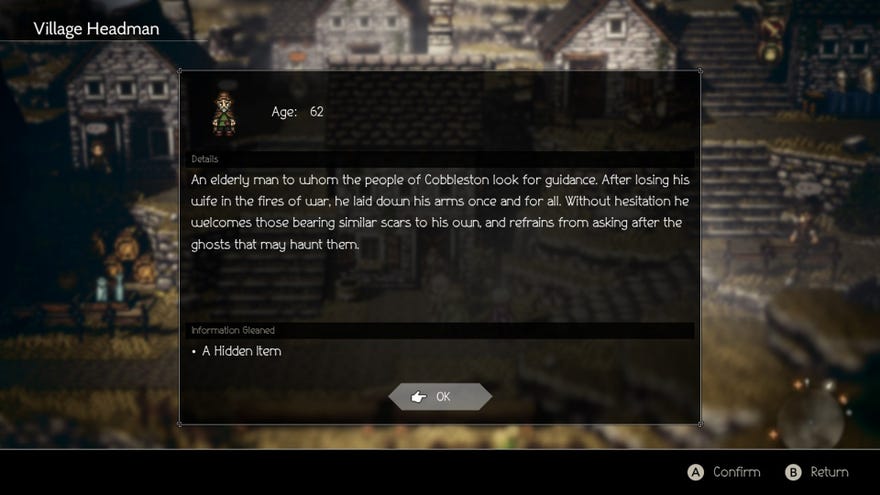 NPCs are everywhere in JRPGs, but most of the time they're gormless human worms that often only have three words to say between them. "Go here," they say. "Fetch my slippers," barks another. Octopath Traveller, however, does things differently. There are still plenty of them that cry, "Please rescue my daughter!" or "Fight this horrible sea monster for me," and more still that don't say anything at all. They're just there, silently judging you about how much time you're spending grinding through the same quest line again and again.
But! Every NPC that does speak also has a surprisingly detailed back story attached to them - the mad thing, though, is that you'll only ever discover it by using Alfyn or Cyrus' Inquire / Inspect abilities on them. I was bowled over when I started probing into the lives of these pixelated meat sacks, as the level of thought and detail that's gone into a lot of them is just absolutely astonishing. If anything, about 99% of these peasants are more interesting than the main cast. Yet most people, I imagine, won't ever know they're there. So I've taken it upon myself to catalogue the histories of these brave souls and share their stories with you - because, honestly, stuff this good shouldn't go unheard.
Read the rest of this article with an RPS Premium subscription
To view this article you'll need to have a Premium subscription. Sign up today for access to more supporter-only articles, an ad-free reading experience, free gifts, and game discounts. Your support helps us create more great writing about PC games.
See more information