This Batman: Arkham Origins Gallery Is Ridiculous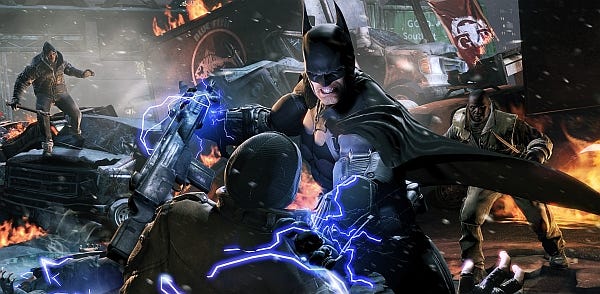 For a grim world that's been overwhelmed by criminals, corruption, and bat guano, the Arkham series of games has always had very polished and pretty polygons. And even though pre-release screenshots are known for being unfathomably and unrealistically pretty, both games in the series really do look gorgeous when the camera whizzes around to show a particularly brutal punch. So I'm very happy to show off this Batman: Arkham Oranges gallery. I'd imagine it's impossible for the released game to look this attractive, but I think it'll be close.

Now I'm hoping for a leaner take on the well worn Batman tropes. I loved the first game, and while I enjoyed myself the second time I pulled on the bat pants, it eventually lost me because they kept introducing other characters. I just didn't want to be bouncing between quests like that. There was just too much game there for me to relax into, and I never felt on top of it at any point. It's a good game in need of editing. Still, there's at least one piece of dropped content I already know about: it's the first Arkham game that I can play without wrestling with Games For Windows Live. That was basically the end-boss.
Arkham Origins is out on October 25th, which should keep me entertained until X Rebirth comes along in the middle of November.