Fireflies: This War Of Mine - The Little Ones
Think of the children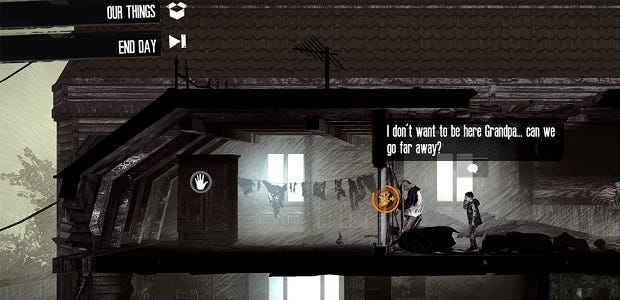 This War of Mine's [official site] take on resource gathering and survival leans heavily on its setting - a besieged city caught up in the horrors of a modern war - and The Little Ones expansion, now available on PC, Mac and Linux, turns the screw by adding new playable characters and NPCs. They're the titular little ones. Children. You might start the game as a parent, or find children hiding from danger, alone, or have them approach your shelter looking for safety and security. Once you've taken them in, you'll not only have to protect them from harm, you'll have to make an effort to understand the world through their eyes.
The Little Ones is currently £6.29 on Steam, with a 10% launch discount, having previously been part of the game's initial console release. Judging by Eurogamer's review of the console version, it manages to do precisely what I'd hoped - making children a burden in pragmatic terms but ensuring they're seen as precious regardless.
The child influences everything. I don't send the father on exploratory scavenging missions, despite him being able to carry more than the others, because if he dies then we have an orphan. She becomes the justification for stealing, the justification for putting another log on the fire. She is the rallying point of the shelter, a reason for the adults to keep going - a role children often take in times of hardship. She glues everyone together.
I adopted a dog last week and I don't like leaving him on his own when I go out scavenging to the pet aisle at the local supermarket for food. The Little Ones would not do well under my guidance, I fear.