Rhythm Violence: Thumper Coming To PC In 2016
I'll thump you in a minute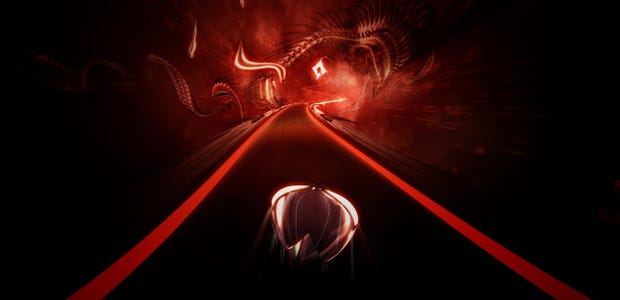 The "rhythm violence" of the booming, screeching, and gorgeous Thumper [official site] left John and folks around him shaken and unsettled when he saw a demo at GDC. Elsewhere in the room, me and my chums muttered crudities along the lines of "sugar yes!" and "flippin' A!" We're pretty different people, me and John, but we broadly agree that Thumper looks quite something.
We've been posting about it for a while without formal confirmation of a PC release (so why'd developers Drool e-mail us, eh?) but now it's official: Thumper is coming to PC in 2016.
Thumper's the usual rhythm dealio of pressing the right button at the right time transported to a world of metallic bugs racing down narrow pathways, metal shrieking as they turn corners, bass booming as they attack, and grand surreal vistas with terrible huge enemies. It's quite the sight and quite the sound.
Both members of two-person team Drool worked at Rock Band and Dance Central developers Harmonix, so they should know a thing or two about rhythm games. I'm delighted to see that knowledge being applied to loud and terrible extravaganzas (beyond Whitesnake songs, anyway), as you may well be if you watch that GDC talk: