Top Score Is A Great Podcast About Videogame Music
Listen more.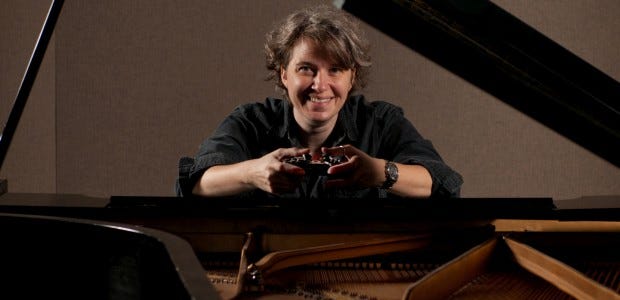 Top Score is a podcast that interviews and highlights the work of videogames' best composers. The show is produced by Minnesota Public Radio and since 2011 has featured musicians from Skyrim, Grim Fandango, Luftrausers and Legend of Grimrock 2, among dozens of others. It's designed to be accessible to an audience who maybe know music better than they know games, but the result is a series of entertaining interviews with insight into a part of the game production process that often goes overlooked. What's the news here? There isn't any - it's simply excellent and I only discovered it this weekend.
The show is presented by Emily Reese, who was interviewed by Gamasutra last year about her interest in games, music and radio:
[Gamasutra]: Do you have a favorite piece of video game music or a favorite score overall? Is there a score that you feel follows the game's events and player choices the most?

ER: Oh man. A favorite piece or a favorite score. That is SO hard, because there are so many different choices. It's not like you're asking, 'what's your favorite Baroque harpsichord suite'. I have favorite 8-bit era scores (Metroid), favorite chip tune scores (Fez), and favorite orchestral scores. I can tell you the scores I consistently return to, like all of Jesper Kyd's music, particularly AC Brotherhood and Darksiders II. I've never played Guild Ward 2, but Jeremy Soule's music is absolutely exquisite in that game. And, of course, Skyrim. Jason Graves's Dead Space 2 is one of the best scores ever written in a game. I listen a lot to Papo & Yo, and lately, I can't stop listening to Ibb & Obb and Brothers: A Tale of Two Sons. If we talk about individual tracks, I never get enough of "Glacier Gully" by Lorne Balfe. I have to stop now, because I've not even mentioned Uncharted or Halo ODST or Journey or Mass Effect or Bastion. I vote that this question is too unfair.
The show's home on radio means that the audio quality and editing are of a higher quality than you normally find on hobbyist podcasts, which is a boon given the subject matter. All previous episodes can be found alongside supplementary posts on the Minnesota Public Radio website, although it may be quicker to subscribe and find recent episodes via its second home at the Infinite Guest podcast network. I started with the episode about Peter McConnell's work on the Grim Fandango: Remastered soundtrack.
Give it a listen if you've been yearning for Classic FM to play more videogame soundtracks.