Torment: Tides of Numenera trailer sets up the story
Once upon a time...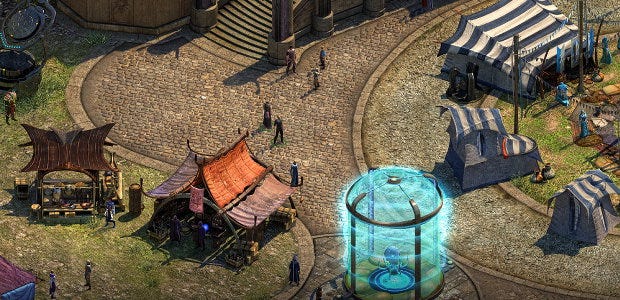 I get that Torment: Tides of Numenera [official site] is going for a Planescape: Torment-y talk-o-thinky vibe in a future so far-flung that ancient technology is basically magic, but I didn't know much about the story. Turns out, as a new trailer explains, oh yes it us riffing on Torment-ish themes of immortality and past selves and fates catching up and... hey, see for yourself below. Or don't, if you'd rather go in fresh-ish.
The world it's set in, I say for those who haven't pored over every scrap, is from Monte Cook's Numenera tabletop playing-a-role game. It goes down in the far, far future, where grand civilisations have risen and vanished so many times that the world is a garbage heap of ancient, powerful, and confusing technologies. It's sci-fi but magical.
As the saying goes, "Any technology sufficiently advanced to appear on Tomorrow's World is indistinguishable from nonsense."
Tides of Numenera is coming on February 28th. If you're expecting it to exactly follow the blueprint from its crowdfunding campaign, er, you'll be a little disappointed. For all the fuss that stirred up, I do think a lot of their deviations sound for the good of the game, even if using stretch goals to whip up interest then dropping them is a bit shady. The point is: this video game looks fun! Three more weeks.