Touring Cars: Dirt 3 Monte Carlo DLC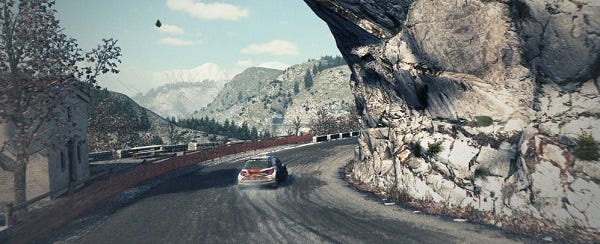 According to Codemasters, players have spent 292 years playing Dirt 3, neatly pre-dating the invention of the internal combustion engine. To add on a couple of centuries, here's the first fully-fledged chunk of content for Codemaster's superb rally racer, improving on the rather typical showing of extra cars already available. Centring on the Monte Carlo Rally, you can expect snow and tarmac courses through the Alps, changing it up some from faffing around a disused ironworks in Michigan.
The DLC should be available for purchase in the GFWL Marketplace soon is out now for £6.75, and a trailer for Monte Carlo is after the jump.
It looks like a big change up from the usual Codemasters effort, the makeover minigame before big events especially looking like a fun way to spruce up your avatar before races. Branching out from the traditional cars, the addition of bicycles and horse-riding events such as Polo make a surprising show, and there's even some footage of Assassin's Creed style action towards the end. Shame they don't highlight the exciting developments in the press release:
The new Monte Carlo Track Pack includes eight breath-taking Rally stages featuring dramatic climbs, descents and hairpins set amongst snowy mountain roads. Players can race through the Alps and conquer the legendary Col de Turini pass in single-player, split-screen and online multiplayer. Gamers will race at day, night and compete under brand new foggy conditions as the Monte Carlo Track Pack's cliff-side roads, tight passes and tunnels combine to create a testing technical challenge for Rally fans.
Here's hoping for a Hannah Montana co-driver.