Zoom Zoom: Trackmania Turbo Announced For November
Loop the loop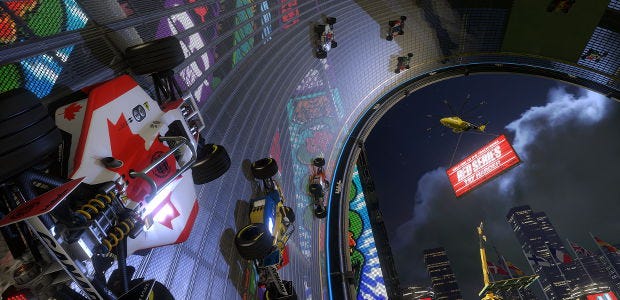 The twists, ramps, jumps, vertical roads, and loops of Trackmania are a delight to me. The arcade racing series is wholly silly yet still encourages and rewards very careful driving as you try to top the time trial leaderboards. They're jolly nice games. The last lot in the series sadly split different environment and vehicle types off into separate games, but they're coming back together in Trackmania Turbo [official site].
Ubisoft tonight announced the latest absurd racer, which will arrive on November 27th. Look at that zany futurecity track and tell me you don't want to drive upside-down around it.
Turbo's four environments are Rollercoaster Lagoon, International Stadium, Canyon Grand Drift, and Valley Down & Dirty, all of which play differently. Its campaign will come with 200 tracks to unlock but honestly, track counts hardly matter in Trackmania. Turbo will, as ever, have a track editor letting people make their own wacky races - plus a random track generator.
Speaking of: Turbo will also bring a mode named Double Driver, where two players work together to control the same car. That sounds disastrous, and I dig it.
Here's the announcement trailer: