Mix'n'Match Multiplayer Modes In Trackmania Turbo
Zoom zoom!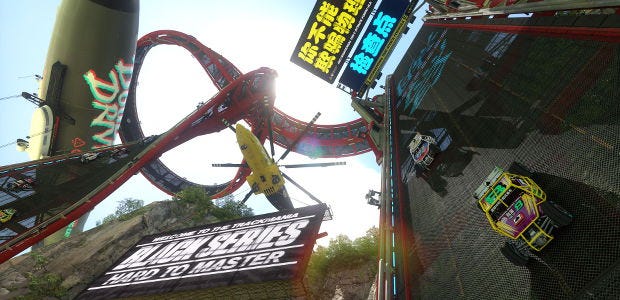 For a game as joyful and creative as Trackmania, the multiplayer modes have always struck me as relatively bland and predictable. Sure, you may not notice it for some time, busy as you may be, giggling yourself silly trying to find the perfect trajectory on vertical walls, upside down, through loops and jumps. But at some point you start noticing that all you can really do are variants on time attack, with basically no interactions with other players.
Trackmania Turbo [official site] wants to fix that and bring more fun (TM) to the multiplayer side of things. The latest trailer showcases 5 different ways to challenge your opponents - and you can mix and match them to create many more.
If you've been out of the loop (ha!), Trackmania is a racing series built on impossible speeds and ridiculously over-the-top tracks. There are races where all that matters is perfecting your driving to make it to the finish line a hundredth of a second quicker, and other circuits where simply getting to the end is an achievement in itself.
Devs Nadeo have shown footage for 5 of the multiplayer modes in Trackmania Turbo, as shown in this new trailer. (Spot the typo!)
Double Driver had already been announced: two players will control the same car, which will follow the average of their inputs. So if there's a pillar in the middle of the track, and you try to dodge left while your partner tries to go right, you'll crash straight towards it! Sure to test the durability of many long-standing friendships.
Splitscreen is exactly what you'd expect, whereas Monoscreen is a tried and tested mode to harks back the Micro Machines tradition: fall out of the camera's view and you lose a life. In Stunt mode you gain turbo by performing tricks like a skateboarding game, and in Bonus there will be a handful of unique modifiers to make your car bigger or smaller, shoot your opponents, jump or get some boost and so on.
But that's not all! The old modes like Hotseat and Time Attack modes are returning, and there are other new modes like Smash, in which you can only accelerate by quickly hitting the button instead of holding it down. And on top of that, you can actually take each of these modes and make additional combinations, like Monoscreen Double Driver, or Smash Stunt, or whatever crazy idea you come up with to make it impossible to have a normal race. And that's really the whole point.
Trackmania Turbo is coming to Windows on March 24th, via uPlay and Steam (but it'll still require a uPlay account.) It'll cost £29.99/$39.99/€39.99