Warframe shows off expansion's open-world action
Scary meatbot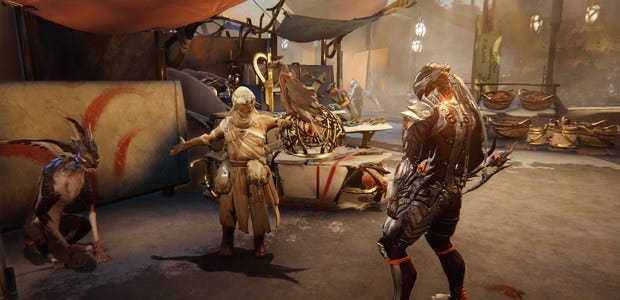 After adventures into space combat and under the sea, the next Warframe [official site] expansion taking the free-to-play action-RPG to rolling plains seems a little mundane. But Plains of Eidolon is more than a setting, as it will introduce an MMORPG-ish open world with a day-and-night cycle and everything. Those nights will be a problem, as vast and terrible creatures will rise to pummel everyone in their path. This evening, devs Digital Extremes showed a little more of those troublesome behemoths, revealing a fight against some sort of colossal meatbot wielding a cannon and a tree club.
Intimidating. For a more in-depth look and plenty of dev chat about the big'un, check out the archive of today's livestream.
This demonstration from July shows more of the expansion:
The expansion's hub city, Cetus, will let up to 50 players hang out together. Beyond the city, up to four players will be able to group up and venture out.
No word yet on when exactly Plains of Eidolon will launch. I remain impressed by how much Digital Extremes not only continue to add to Warframe but how varied the additions are. The scope of the game has expanded a lot over the past four years.
Digital Extremes are currently also making first-person shooter The Amazing Eternals and publishing Human Head's shoot 'em up MMORPG Survived By.