Wargroove delayed to 2019, but developers detail planned content
In the groove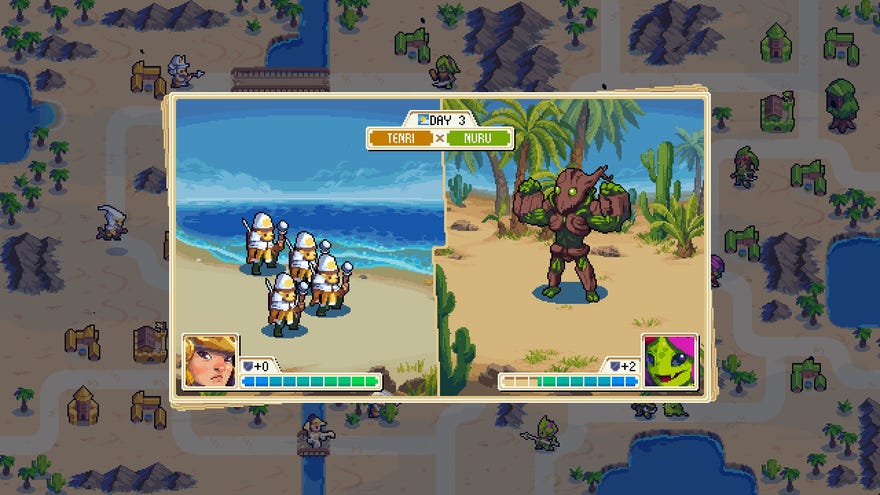 Advance Wars-style strategy game Wargroove doesn't have a firm release date yet, but developers Chucklefish say that you should no longer expect it this year. On the other hand, they've also given us a bunch of details about its planned content, including various modes, map creation, and music.
According to their blog post, the game is "in the final stages of development, preparing for final QA and then multiple platform submissions," but they say that they "want to be 99.9% confident," before giving a specific release date. The shift to the first quarter of 2019 is apparently due to wanting to "provide players with a really robust package when the big day comes."
They've also detailed what that will likely include, although they stress that everything is still subject to change. The list covers four different modes: online and offline customisable PVP in Skirmish; an Arcade mode that focuses on getting to know the commanders through fights and cutscenes; a 33+ mission Campaign mode; and 25+ single turn puzzles.
It also gives more information on both map and campaign creation, and the ability to share them with others. The map making mode was included in the game's announcement trailer, which makes it seem very satisfying for its simplicity, though this blog post says they're also working on "advanced scripting tools for frankly ridiculous possibilities," so I look forward to smarter people than me diving into that potential.
There's more on the list, including the ability to unlock music tracks, some of which are already on the game's YouTube channel and are extremely catchy. Oh, and there's also a new gif of dog hero Caesar in action so I realise that I've buried the lede here quite badly. His is an inspire move that lets other units take an extra turn, because who wouldn't want to push forward when working with such a good boy?
I'm not surprised that both our text and video teams are looking forward to this one, even if we will have to wait a little longer to get our hands – and paws – on it.