Deus Ex: Mankind Divided Unlock Times, DLC Season Pass Details
Two story DLCs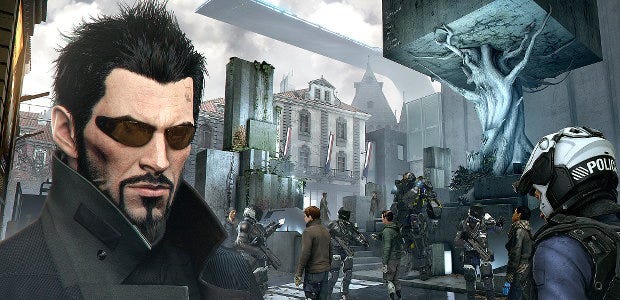 Gosh oh golly, Deus Ex: Mankind Divided [official site] is out in less than 24 hours! Square Enix have confirmed Steam unlock times and I'm mighty excited. The cyberpunk FPS-RPG is pretty great, our Graham thinks - the lucky dog! Luckily for me and my overexcitement, publishers Square Enix have also poured a cool glass of cyberwater over my cyberhead to make me calm down and instead ask "Why would you do that now?" They've detailed the contents of Mankind Divided's DLC Season Pass, y'see. Nothing cools that launch giddiness like DLC announcements!
Mankind Divded will unlock on Steam at 9am PDT on Tuesday, says a tweet, which is 12pm EST, 5pm BST, 6pm CEST, and so on. Here it is in every time zone.
Onto less exciting stuff! What will £24.99/29,99€/$29.99 get you in the DLC Season Pass? The stars will likely be two new story missions: 'System Rift', coming this autumn, and 'A Criminal Past', which is due in "early 2017." No idea how big or how good they'll be, but surely you won't be buying the Season Pass now anyway?
Season passes are the new pre-orders - don't pay for them until you have any idea if it's worth it (unless you're happy gambling, obvs). Heck, season passes are even worse than pre-ordering since Valve loosened Steam's refund policy - if you bought the DLC Pass today, its refund period would be over long before any of the interesting-sound bits even arrived.
The rest of the Season Pass is pretty dull, a collection of in-game items, credits, crafting bits, and other stuff that is probably helpful but ultimately minor. I tend to find these 'booster pack' sort of things spoil the progression curve the game was designed for but hey! Here are the details from Squeenix on all the guff, which will be available when Mankind Divided launches:
Assault Pack: Prepare to advance and assault the enemy with a custom skinned Battle Rifle, the Chaff Augmentation, one pack of regular Battle Rifle ammo, one pack of armor piercing Battle Rifle ammo, 2 Frag Grenades, and 2 EMP Grenades.
Tactical Pack: Using distance to your advantage, eliminate your targets silently with a custom skinned Tranquilizer Rifle, the Micro Assembler Augmentation, one pack of tranquilizer ammo, 3 Smoke Grenades, and 2 Gas Grenades.
4 Praxis Kits – These additional Praxis Kits will allow you to further develop the augmentations of your choosing, moving you one step closer to unlocking Adam's full potential.
5000 Credits – Bolster your wallet with additional credits, providing you with extra spending money to purchase Praxis Kits, ammo, weapons, or anything else you may find at the shops in Deus Ex: Mankind Divided.
1000 Crafting Parts – Use crafting parts to craft upgrades, such as increased damage and accuracy, for any weapon in your inventory.
5 Deus Ex: Mankind Divided - Breach Booster Packs – Open your booster packs to unlock new weapons and items, Praxis points, premium ammo, and more, helping to augment and enhance your avatar in Deus Ex: Mankind Divided - Breach.
20 Deus Ex: Mankind Divided - Breach Chipsets – Use your chipsets to acquire exclusive items in Deus Ex: Mankind Divided - Breach, such as premium Booster Packs and custom weapons.
What's Breach? Oh! That's a separate arcade mode, where you play a leet hacker busting into highly-secured servers through cyberspace. The NeoTokyo chap is doing music for Breach and all.
You know, I don't think I ever actually finished Human Revolution's big story DLC, The Missing Link. Maybe that can help distract me while I wait for Mankind Divided.