Mafia III Yoinks October 7th Release Date
Ready for more crimes?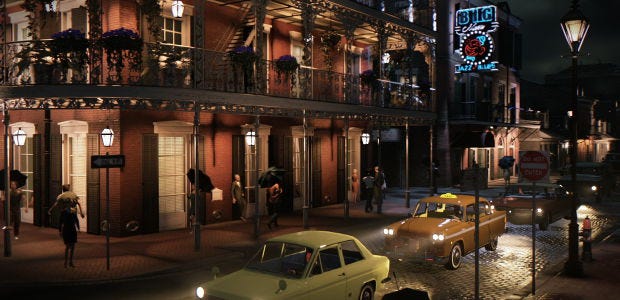 The open-world crime empire antics of Mafia III [official site] will kick off on October 7th, publishers 2K announced today. The time, the third-person crime 'em up is in the hands of a different studio, Hangar 13, and doesn't focus on the Cosa Nostra as much as a chap trying to take them down, as it visits a New Orleans-y city in 1968 through a new protagonist building his own empire. Here, a new trailer tells a little of the story:
Well crimes, yeah?
That's Lincoln Clay, who returned from the Vietnam War and started dabbling in organised crime, but really kicked off after the mafia murdered his chums. While Mafia games so far have been about schlubs who climb the ranks of the mafia but can't escape them, Clay's going out to build his own empire, taking over and running places.
Our Adam saw a demo at Gamescom last year and wasn't sure how it'd shape up:
"I'd like ether one of the games Mafia III might be – the violent overblown revenge fantasy or the grim tale of brotherhood, bullets and bayous – but, right now, there's a possibility it'll land somewhere in the middle and end up being an open world cover shooter without a cause."
Hmm! You can watch a chunk yourself to see what you make of it, though bear in mind that's months old too. Anyway! October 7th. Plop a miniature horse's head in your calendar.