Titanfall 2 Shows Off Singleplayer, Grappling Hooks
GRAPPLE ME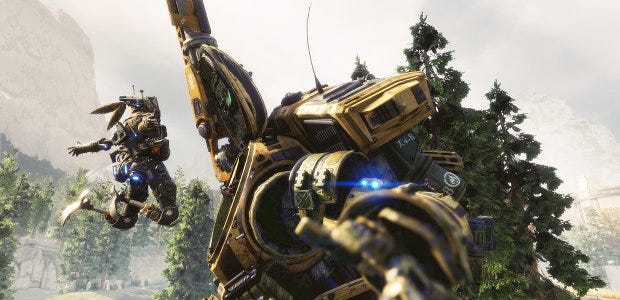 Titanfall 2 [official site] will stomp out on October 28th, Respawn Entertainment have announced during EA's E3 2016 press event. Along with the usual man vs. man vs. mech multiplayer FPS action, the sequel will introduce a singleplayer campaign. More importantly than that, Respawn shared a look at its grappling hook!
The combination of parkour, pump-action shotgun, stompy murderbot, giant revolver, and grappling hook means that Titanfall 2 is, on paper, surely one of the greatest first-person shooters ever. That's how it works, right? But really, come have a peek at both sides in the singleplayer and multiplayer trailers.
Titanfall 2 will bring 6 new titans, fancy new gadgets, and what EA call "a deep progression system". All I need to know is: does that mean I don't need to grind out levels to unlock the megarevolver? I'd rather have all the cool murdertoys from the start but would settle for shortcuts to gigarevolvers.
Anyway! Look at the cool grappling hooking in this here multiplayer trailer:
And here's a look at the touching romance between beardyman and murdermachine:
And because I now have to type up a Mass Effect Andromeda thing oh god the announcements come on coming, here's EA's press blurb:
"In single player, Titanfall 2 will deliver a crafted experience that explores the unique bond between man and machine. Playable offline, the single player campaign in Titanfall 2 will let fans step out onto the Frontier as a Militia rifleman with aspirations of becoming an elite Pilot. Stranded behind enemy lines and facing overwhelming odds, players must team up with a veteran Titan to uphold a mission they were never meant to carry out. In multiplayer, Respawn is continuing to evolve their best-in-class gameplay to provide a more robust experience that delivers expanded depth and variety that includes six new Titans, deeper Pilot abilities, more customisation options, and a robust progression system that is sure to satisfy fans."
I can't get no satisfaction.
Do check the rest of our E3 2016 posts, previews, odds, ends, and gubbins.