Wolfenstein 2: The New Colossus announced, coming October
Start a revolution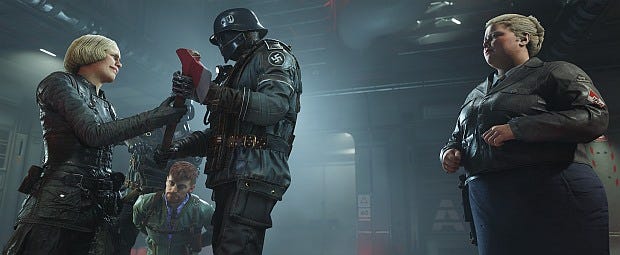 Good morning! While we were all sleeping (and Adam was fighting terrible conference wifi), Bethesda's press conference happen. With came announcements of new games, including Wolfenstein 2: The New Colossus [official site]. There's an 8 minute trailer below, which includes live action sequences, cutscene vignettes and lots and lots of killing Nazis and robots and robot Nazis.
I confess that for all my enjoyment of E3, I'm relatively immune to the trailers that get released during the show. This worked on me though, wearing me down with each cutscene. I liked the writing? And the characters? And travelling America to garner support for a revolution against the occupying Nazis sounds compelling? I'm not used to this. How did BJ Blazkowicz become a likable character. Or a character at all. Good work, MachineGames.
Also unlike so many other games at the show, Bethesda have a bunch more information about it online.
And he'll need every weapon he can find, because this time it's even more personal. Not only is BJ fighting to take back his homeland, but he's doing it alongside old friends (including returning favorites like Caroline, Bombate, Set, Max Hass, Fergus or Wyatt, and his now-pregnant partner Anya). These allies – along with new characters like Horton and Grace – will help BJ take down the villainous Frau Engel and her Nazi army, and spark the second American Revolution, ensuring there's a future for the burgeoning Blazkowicz family.
#dads
The same post also says that the game will take you "from post-nuclear Manhattan to small-town Roswell to the bayous and boulevards of New Orleans and beyond." It's scheduled for release on October 27th this year.