Wreckfest has smashed out of early access
Smash bang wallop, what a picture!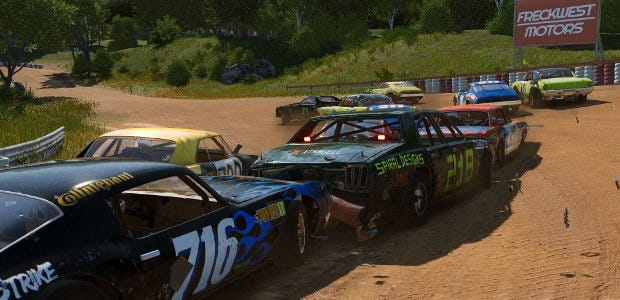 After four years of crashing, smashing, bashing, and dashing around early access, Wreckfest today finally launches in full. It's the new (well... new-ish now, I suppose) racer from FlatOut creators Bugbear, who previously called it just Next Car Game, and it certainly has pretty destruction effects. Wreckfest is crossing the finish line with an update including a new destruction derby arena, new parts and paint jobs, and shenanigans-laden vehicles including a harvester and a wobbly double-decker car. See these antics and more during in the launch trailer below.
Smashing stuff. Looks nice too, ho ho.
So there you are, in a car, atop a lawnmower, and so on, whooshing around in races, whooshing around in smashy races, or just plain smashing in destruction derby. Singleplayer and online multiplayer are on offer. And its Steam Workshop already houses years of mods.
One note for early access drivers: all your saves will be wiped with the launch update, taking with them your vehicles, credits, and experience.
"We realize it's uncool, yes, but it's a necessary safeguarding step to prevent bugs and glitches stemming from legacy save data," Bugbear say.
Wreckfest is out now on Steam for £39/€45/$45. The price has gone up £14 with the launch cos now it's done, yeah?