BioShock Co-Devs 2K Australia Closing After 15 Years
Formerly part of Irrational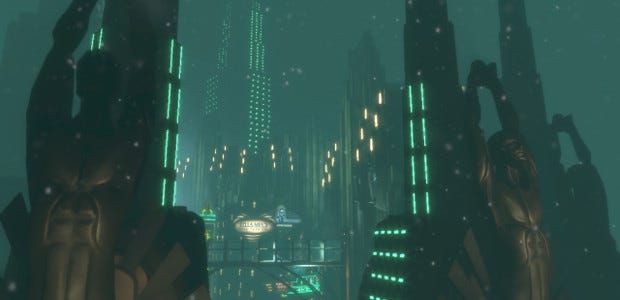 Irrational Games as we know it closed in February, though the BioShock studio lives on in a way with a small group of survivors under Ken Levine at a new team within 2K. Once upon a time, though, there were two Irrationals. A Canberra arm of Irrational was founded in 2000, then later renamed 2K Australia. It mostly worked with Irrational and other 2K studios, on games from Freedom Force to BioShock Infinite, but most recently was behind Borderlands: The Pre-sequel. And now it's gone too.
Parent company 2K Games have confirmed that they're closing the studio and laying off the staff. Sounds like it was too expensive for them, and too remote.
A 2K representative issued this official statement to Kotaku Australia following rumours:
"We can confirm we have taken steps to begin the studio closure process for 2K Australia in order to better manage ongoing development costs while improving the working proximity of our creative teams. We are very grateful for the team's valuable contributions to numerous 2K projects, and are working with affected staff to explore reassignment opportunities where possible."
Unnamed sources told the site that 2K had planned to move the studio 300 miles (500 kilometres) to the city of Melbourne in the hope of attracting new folks (anecdotally, I hear Canberra is not the most exciting place to live). Instead, the source claims, this plan prompted many high-level folks to leave the studio. And then 2K decided to close it down instead. So they say, anyway. That Ian Video Games sure does get around, or Izza Game-o as they call him down under.
The studio seemed never to have something truly its own, or even a firm identity. Staring as part of Irrational, it was renamed 2K Australia in 2007 when the Boston headquarters became 2K Boston too. When Boston became Irrational once more in 2010, Australia stayed under that name for a few months, until it joined the banner of 2K Marin. The studio had worked with Marin on BioShock 2, and they were working together on the game that'd eventually become The Bureau: XCOM Declassified. And then it became 2K Australia again. 2K Marin is also essentially gone. Australia had been the last bastion of Irrational. That's a whole lot of studios 2K is now down.
Best of luck to all affected by this.
I'm sure we'll see a fair few interesting teeny studios and games come out of this. Folks going indie after leaving Irrational and Marin, by choice or not, have been working on some cracking-looking games. Jordan Thomas started on The Magic Circle after leaving Marin, The Flame in the Flood is by former Irrational folks, The Fullbright Company (several of whom I'm pals with, I should say) gave us Gone Home and are now working on Tacoma, Albino Lullaby's team includes some of that lot, there's Eldritch and Neon Struct from Minor Key Games, I want to see more of what Dim Bulb (also pally with) are up to, The Black Glove sadly failed its Kickstarter, and oh there are many more I've forgotten. Hopefully I can add some from 2K Australia folk to that list soon.