American Truck Simulator Trailer Hits Route 101
A magical land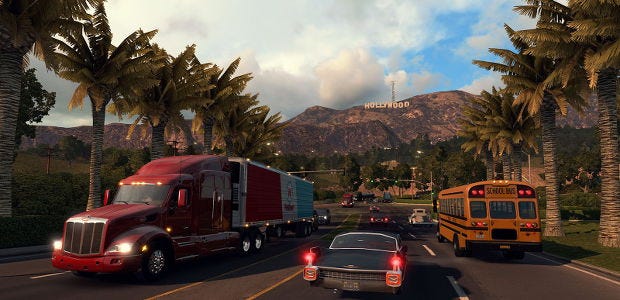 I admire Euro Truck Simulator but, well, Europe's a bit mundane. Give me endless skies, wild lands, Places From The Movies, big trees. Give me American Truck Simulator [official site]. SCS's next trucking sim takes a whistlestop tour of the USA in a new trailer, and I dig it. Chills ran down my spine seeing a truck cross the Golden Gate Bridge out of that dreadful city and towards the trees, those beautiful trees I do so miss! It's the landscape I most want to truck around.
Well, until SCS get the license for Mega-City One Truck Simulator.
The USA is such a dreamy place for people who grew up inundated with American media without ever seeing the reality. We see it so much, but only tiny pockets of it. Cities like Los Angeles and New York are so seen and idealised they become hyperreal, while most of the rest of the country is a mish-mash of cowboy landscapes and bleak suburbs in Anytown, USA. The reality can be jarring.
After I'd visited Virginia and San Francisco, I thought I hated being in the USA. But this year, I managed to escape out of SF to the north, driving over the Golden Gate Bridge like in this trailer, up through one-stoplight towns and ancient redwood forests, down winding mountain passes, alongside the roaring ocean, and into Oregon. I'm rambling so: I adored the people and places; I'm very keen to return; I am keen to see American Truck Simulator's weird simulation. I might run routes from Seattle down to Eureka or thereabouts.
The condensed continents of games like American Truck Simulator and Fuel are deeply unreal too, of course. That's fine: we all happily inhabit a dozen unrealities anyway.
Right! Yes. No word yet on when American Truck Simulator will launch.