Anthem endgame - legendary contracts, Grandmaster difficulty levels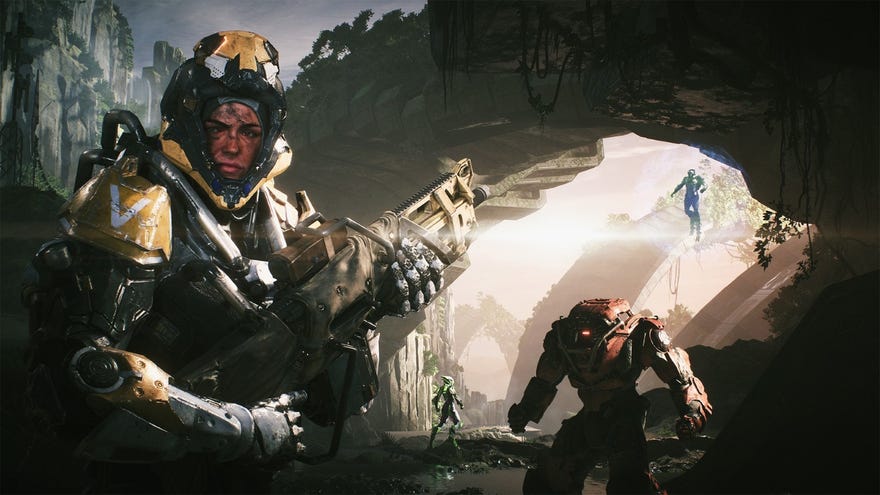 Anthem's main story missions will take you close to the pilot level limit of 30. But what happens after that? That's where the endgame comes in. New legendary contracts can hand out some great components, while taking on the already tough Stronghold missions in the new Grandmaster difficulty settings will gear you up for future challenges. This guide will go over what Anthem's endgame has to offer, including how to unlock the Legendary Contracts.
Anthem Endgame guide
Looking for help with missions, or how to get to grips with navigation in Anthem? Be sure to check out our Anthem guide for everything you need to know about Bioware's latest space adventure.
Legendary contracts
Legendary contracts are small missions that can reward players with guaranteed Masterwork components. You can find out which ones can drop in our Anthem Masterwork components. In order to access these Legendary contracts, you'll need to hit the following milestones:
Finish the main campaign, our guide to Anthem Missions has intel on them.
Reach Pilot level 30, tips for which can be found in our Anthem Pilot and Javelin levels guide.
Complete all Agent Quests and Agent Contracts for each of the three factions. Find out more about them in our Anthem Factions guide.
Complete one repeatable contract for each of the Factions.
Once you've finished all of these, you'll be given legendary contracts for all three factions. These are significantly harder missions that have massive rewards, such as Masterwork gears. There is a caveat though, in that you may only complete three legendary contracts per day.
Gathering Masterwork/Legendary items
As mentioned in the video above from EA, the expanded content for Anthem takes place after the main story. It will feature plenty of new missions and strongholds to complete, as well as a ton of legendary loot to find. Since your pilot level only goes up to 30, the only way to upgrade your Javelins beyond that threshold is by equipping the best masterwork or legendary loot. As for what to look for, you can check out the following guides:
Grandmaster difficulty levels
Upon reaching pilot level 30, you'll unlock Grandmaster difficulty levels for all missions. Doing missions at this level will make it more likely to drop Masterwork, or even legendary items, compared with completing missions on Hard mode. The difficulty rankings have a rough Javelin level that you should be aiming towards when you're selecting the difficulty of the mission, in order to do well and not die within the first few seconds.
While the challenge of Grandmaster Level 3 may seem tempting, at the time of writing, it seems there is very little difference between the loot drops when compared to completing missions in Grandmaster Level 1. However, finishing any of the Strongholds from Grandmaster Level 1 and upwards will guarantee a Masterwork rank item drop. You can get some intel on them in our Anthem Strongholds guide.
In order to prepare yourself for the endgame, you can familiarise yourself with the Javelins themselves by viewing our Anthem Javelins guide, to learn more about their skills, and their place in the team.