Listen Up, Maggots: Arma 3 Launches Bootcamps
And a fancy dress-up paper doll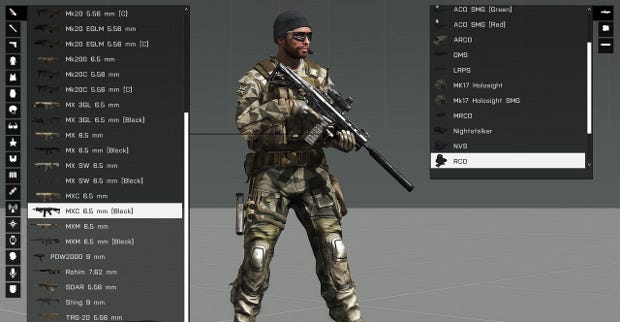 Arma 3's battlefield simulation may not be so complex that one needs the full 26 weeks of basic training the real army provides, but it could definitely do with offering a little more guidance. Which it now does, thanks to today's 'Bootcamp' update adding all sorts of training, with a single-player mini-campaign, multiplayer bootcamp where players can play at drill sergeant and holler while forcing rookies to crawl on their bellies under barbed wire, and VR training that's an excuse to play around with its fanciest toys.
It also adds a 'Virtual Arsenal,' which is perhaps the closest you'll get to a soldier dress-up game.
The Virtual Arsenal looks fascinating, an asset viewer for everything a soldier can carry and wear. Part of its purpose is to make people aware of quite what's in the game, and to export characters to scenarios and mods, but it is also sort of a military paper doll. Pick from dozens of pairs of shades, 8 different bandanna designs, an unexpected number of boiler suits, then load them up with guns, goggles, smoke grenades in so many colours, ammo and add-ons, and go play as your dream soldier. Or a ridiculous goofball wearing the weirdest collection of junk you can find.
The patch is a biggun, also rebalancing weapon sway so players can't whip giant weapons around as quickly, reworking the fatigue system, adding Steam Workshop support for new assets and whatnot, and loads more. Look over here for fancy explanations, or this-a-way for the changelog.