Armello DLC Not Coming To GOG Version
Bad luck, Goggers!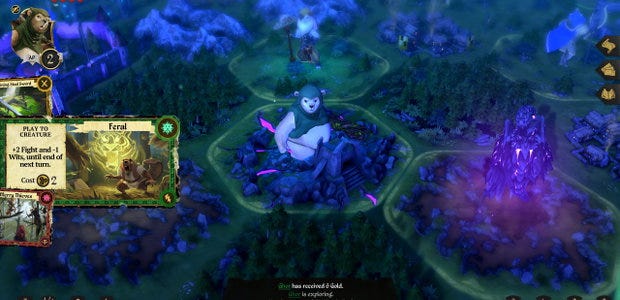 Canny readers swagger up with a sneer to boast they're not falling for it: "Rock, Paper, Shotgun hasn't really been 'PC gaming since 1873'. That's not true. I've caught you out." They're right, of course - 'RPS' is a cheeky act of positive spin. In truth, we started in 1872 as Rock, Paper, We're Getting On With Kieron Just Fine Okay. Following the inquest, we rebranded to Rock, Paper, Shotgun and found the cool edge we'd lacked.
The version of Armello [official site] sold on GOG is now called Armello DRM Free Edition. What that means is DLC released on Steam isn't on GOG. Positive rebranding!
The Game-of-Thrones-with-animals virtuaboardgame's first paid DLC, the Usurpers Hero Pack, launched this week on Steam with four new playable characters and some shiny new rings. It has not launched on GOG. It will not launch on GOG, or at least not in its current form or any time soon.
"As Armello moves more and more into online services (like Steam inventory and more multiplayer features) and as we begin to roll out our plans for DLC, we've been working closely with GoG on an edition of Armello specific to GoG," said director Trent Kusters from developers League of Geeks in a roadmap update. He continues:
"We've had fantastic meetings with GoG about the future of Armello on the platform and although there's no way for us to provide DLC for DRM Free users or to attempt to retain parity with the Steam version of Armello, Armello DRM Free Edition will see features that best suit a DRM Free experience picked across from other platforms into early-mid 2017, helping LoG & GoG (lol) reach our mutual goal of providing users the best possible DRM Free Armello experience."
Which is an interesting spin, as GOG only sell DRM-free games - Armello has never had DRM on GOG.
Kusters saying "Armello DRM Free Edition will see features that best suit a DRM Free experience" might be hinting that League of Geeks are planning a few freebies but, if so, that'd be a really terrible way to say it. As it stands, it looks like League of Geeks are selling a less-loved version on GOG for the same price and presenting it as a positive. The GOG version already often received patches later than Steam.
It's a shame. By many accounts, Armello is a pleasing virtuaboardgame of political maneuvering and battling. But it sounds like they over-reached with the GOG release and don't have a good plan for moving forwards.