Cuddly Game Of Thrones: Armello Released
But who is which animal?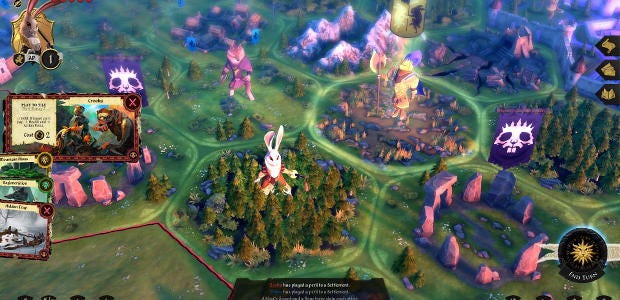 "Game of Thrones of Farthing Wood," Marsh called Armello [official site], for its woodland friends and - oh no! - devious and violent scheming as our cutesy chums vie for control of the throne. He played the Early Access version back in January and thought it had promise. Well, we'll see how the extra seven months of development have worked out for it, as Armello last night left Early Access and properly launched.
You can now pick your hero and make a move on the throne board-a-card-o-RPG-y turn-based strategy game. But remember: when you play the game of thrones of Farthing Wood, you either live or get savaged by a blue fox. Something like that. I know a lot more about Animals of Farthing Wood than I do Game of Thrones, to be honest. GoT is the one where everyone has a cool undercut, right?
Armello sees up to four players competing for the throne as the king slowly dies. You travel around a world map, questing, securing land, raising funds, gaining equipment, and trying to ruin others' plans. Marsh explains far more about it than I will, so go read his preview and you'll get the gist.
Developed by League of Geeks, Armello is out for Windows, Mac, and Linux. It's £14.99 on Steam or a Humble widget on its site will give you a Steam key for $19.99 (£13-ish). Here's the launch trailer: