Atari Are All Alone In The Dark Haunted House
Coming soon: Pong RTS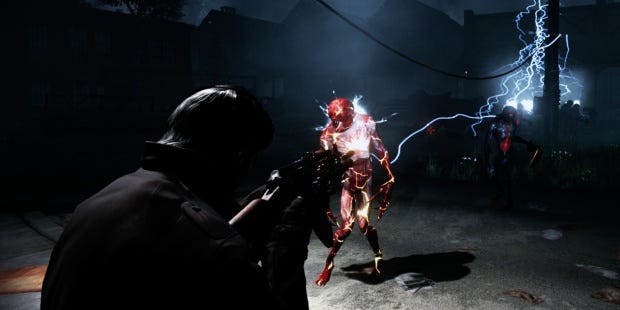 Perhaps Atari is being meta. That's my theory. Two old, undesirable game series returning, both about things that should be dead coming back to life. Again. It's awfully clever.
So it is that we have yet another attempt to revive the never-good Alone In The Dark, and the Atari 2600 cartridge game, Haunted House. Both now have their first trailers, below. Neither seeming to have much to do with Atari's recent declaration that it was to focus on the extraordinarily specific choice of making "LGBT and social casino" games.
Alone In The Dark is fondly remembered by some for being in 3D. Which is a bit like fondly remembering a childhood infection because the antibiotics were banana flavoured. It first appeared in 1992, then saw a series of sequels throughout the 90s. As the Atari brand began its endless game of hot potato, it was revived for the first time in 2001 with Alone In The Dark: The New Nightmare to a festival of mild interest. It remained buried for another seven years, and then burst forth once more in 2008, once more entitled Alone In The Dark. And once again the world cried, "Eh, if you like." Another six years and it's back yet again, and this time it looks like this:
Although the trailer appears to show a Getting Eaten In The Pitch Black Simulator, screenshots show it's more a third-person horror shooter all over again.
Haunted House, meanwhile, is whoever-actually-owns-Atari really digging to the dustiest corners at the back of the IP cupboard for something to sell. Originally released in 1981, there was a previous dismal attempt at exhuming it in 2010, that time as a top-down inaction game. This time out it appears to be first-person, boasting puzzles.
Quite what that has to do with this -
- I'm not sure.
This is a very peculiar pair of announcements for a company that only in June declared that it was now going to focus on making games for "LGBT, social casinos, real-money gambling, and YouTube". No more word has been heard of the promised Pridefest since its asset-less announcement in July, but instead we're getting long-dead survival horrors. Very odd.
Both games are due out before Winter, which is awfully soon after their announcement two weeks ago. Maybe both will be utterly brilliant, and everyone wearing those Atari t-shirts will be the coolest ones there are.