Blood Money: Battlefield 4 Adds Microtransactions
Give money, get battlepack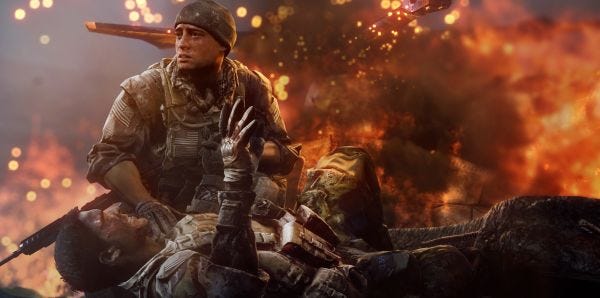 Somewhere beneath all of Battlefield 4's glitches, server woes, and ceaseless controversy lies a very good game. Even back when it first launched, I jumped into a few matches that went off without a hitch, and I thought to myself, "Wow, there is a preposterous amount going on here and also I just murdered a man with a defibrillator." But it's like a "levolutionary" building with sickly hunks of concrete hanging from twisting threads of rebar - one small push, and everything comes crumbling down (unless there is a physics glitch). And now the latest not-so-great-looking mark on a very not-sterling record: EA and DICE have added microtransactions to Battlefield 4, a premium game that still hasn't seen a single price drop. But hey, at least they're optional.
In addition to earning Battlepacks in-game, you can now opt to buy them with real world money. DICE made the announcement in a blog post:
"Starting today, we are introducing a new way to acquire Battlepacks, the bundles of content that provide a mix of in-game items including accessories, emblem shapes, profile pictures, dog tags, XP boosts, knives, and paints. Battlepacks can still be earned through normal gameplay progressions, but we are now giving players the option to purchase Battlepacks as a shortcut to catch up with their friends on the Battlefield."
Bronze battlepacks will run you $1, silver will go for $2, and gold for $3. So yep, if you don't feel like playing, you can gear up for money now.
As if this even needs to be said, this seems like a pretty poor choice on DICE/EA's part given that the game's been marred by technical troubles since day one. Asking for more money - whether from new players or longtimers - is maybe not the best idea when many still don't feel like they got their money's worth out of your original product.
But here we are. Who's still playing BF4? How do you feel about buyable battlepacks? How do you feel about the word battlepack? Personally I think DICE should just go all the way and preface everything with "battle." Hungry? Have a battlesnack. Tired? Take a battlenap. Feel an overwhelming need to weaponize an otherwise docile mountain creature? Have this battleyak. I can do this all day, which means I should probably stop now and never speak of it again.