Be an RPG shopkeep by day, hero by night in Moonlighter
I'd by that for a dollar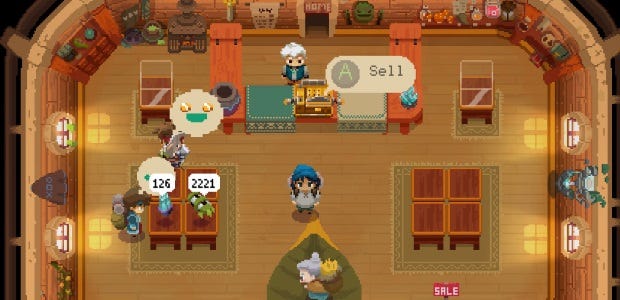 Looking at Digital Sun's upcoming management sim/action-RPG hybrid Moonlighter, it's hard not to draw comparisons to excellent Japanese indie of yesteryear, Recettear. And as far as I'm concerned, that's just fine, because I haven't played anything that quite scratched that itch in nearly 8 years. Run a generic fantasy equipment shop by day, crawl through the dungeons for more stock by night. How else did you think those merchants make money?
To be fair, Moonlighter looks like a somewhat more complex game than Recettear, at least on the surface. While it took a while for the 2010 import to show it's true colours, the screenshots on Moonlighter's official site are full of enticing-looking crafting systems, crunchy equipment menus and dense looking UI's, at least by gamepad-friendly action-RPG standards. The art style also helps the game stand out. While this particular brand of non-outlined sprites with broad blocks of colour is currently in vogue, I feel it leverages it well, at least in the gameplay footage shown so far.
The tone of the trailer also puts your protagonist's desire to be an adventurer first and foremost, making management of your inherited family shop a seemingly secondary concern that you're forced into by responsibility, rather than any great desire to haggle the pants off of every wealthy looking traveler that wanders in through your door. Dungeon crawling seems to be the heart of the game, with the store management existing to provide you the income you need to upgrade and improve your gear to delve deeper into monster-infested territory.
Moonlighter is due for release on May 29th, and will be on Steam, GOG and the Windows 10 store. No price has been announced for the game quite yet, and I doubt that 11 Bit will let you haggle for a better deal once they've made their decision.