Best Cyber Monday SSD deals 2022
Our picks of the best NVMe and SSD deals, across the UK and US
With Black Friday now demoted to "Last Friday", it's the turn of Cyber Monday to host the handful of remaining SSD deals. Thought it's more than a handful, really – multiple big, stretching fistfuls of quality PC storage deals are still running, and should continue to do so until the clock strikes midnight. Or until they run out of stock. Hopefully the former.
I've kept this list, which covers many of the best SSDs for gaming at any price, mainly focused on NVMe and SATA SSDs for your PC's innards. The only, deserved exceptions are some deals I found on the best microSD cards for the Steam Deck; if you own one of Valve's portable PCs, I heartily recommend one of these lil' things as the first accessory you get for it.
Those of you who are instead after an NVMe drive for your desktop, remember to double check what your CPU and motherboard will support: not all systems, or even individual M.2 slots, will support PCIe 4.0 SSDs as well as older PCIe 3.0 models. Once you know what you need, read on, and/or visit our main Cyber Monday PC deals hub for more last-minute hardware sale highlights.
---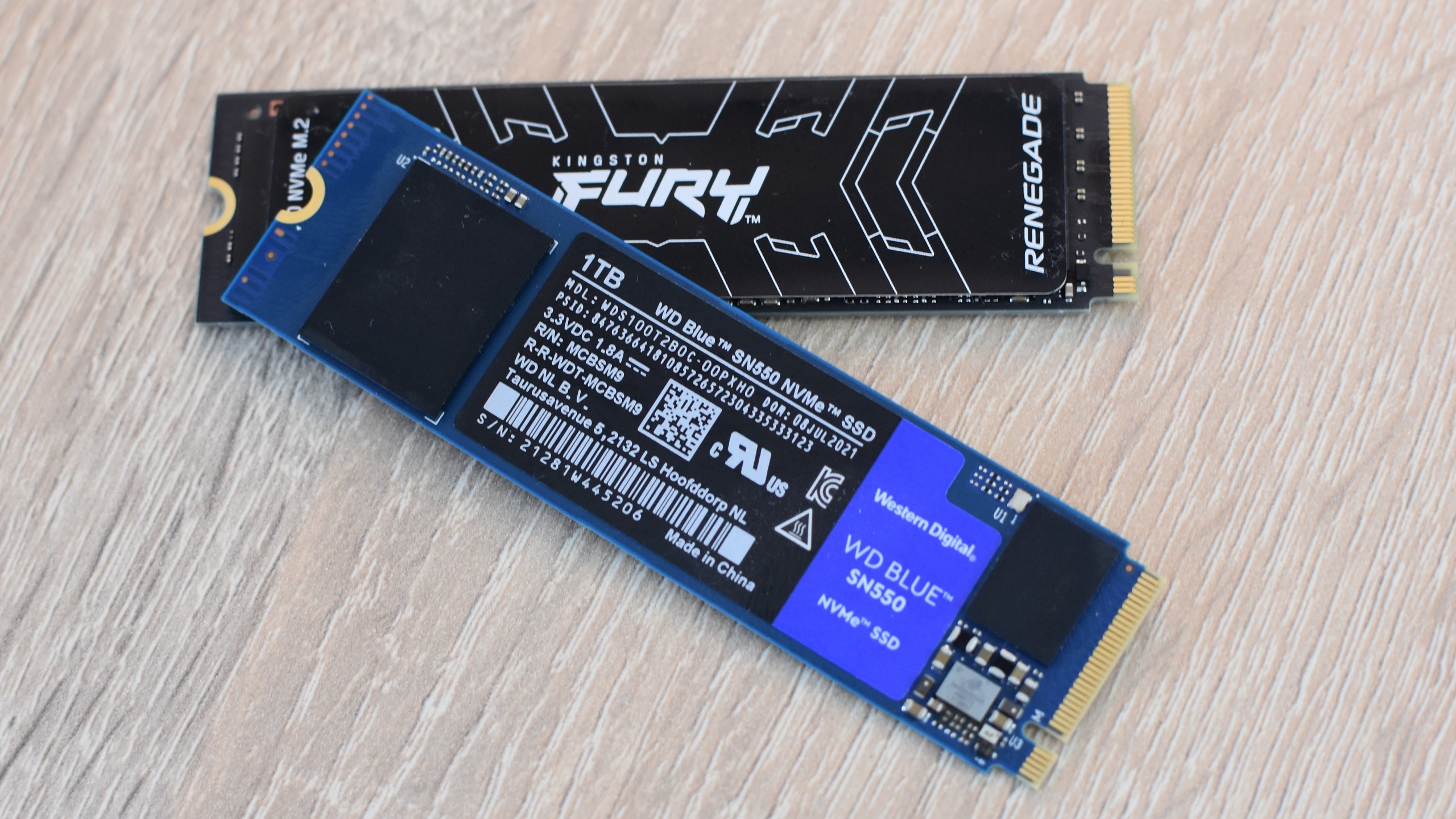 Cyber Monday NVMe SSD deals
---
UK deals:
| | |
| --- | --- |
| | The Blue SN570 was already the best-value PCIe 3.0 SSD on the market, and now it's even cheaper. |
| | The Black SN850X is the second-fastest SSD we've tested on game loading times. Outside of falling to £88 on Black Friday, this is the cheapest that the 1TB model has been. |
| | The P3 Plus is a rival to the Black SN770: both are PCIe 4.0 SSDs with a thrifty side. A bargain at $153. |
| | If you need to stick to PCIe 3.0 but want higher top speeds than the SN570, it's hard to top the P3. Ebuyer has the current best deal on the 500GB model. |
| | It's obviously more expensive than the 500GB P3, but the 1TB version works out as much better value per gig. |
---
US deals:
| | |
| --- | --- |
| | Good deals on the Blue SN570 are harder to come by in the US than they are in the UK. This one is legit, though: the 500GB model for a penny under $40. Perfect for low-budget builds. |
| | A fast and cheap SSD, the 1TB Blue SN570 is arguably an even better deal at $70 than the 500GB model, if you can stretch to it. |
| | A massive discount on one of the best options for anyone sticking with PCIe 3.0 over PCIe 4.0. |
| | An excellent price on the Crucial P3, the fastest PCIe 3.0 SSD we've tested overall. |
| | The P3 Plus uses the PCIe 4.0 interface, so is even faster than the P3, and remains very aggressively priced regardless. |
| | Amazon also has the P3 Plus on sale in its 1TB capacity - definitely a better choice if you want to avoid needing secondary storage drives in the future. |
| | It took a little longer than in the UK, but the US eventually found some worthwhile deals on the megafast SN850X. This PCIe 4.0 cuts game loading times compared to the old SN850, which was pretty quick itself. |
---
Cyber Monday SATA SSD deals
---
UK deals:
| | |
| --- | --- |
| | Despite being several years old, the BX500 is still one of the best SATA SSDs you can buy, with HDD-whomping performance and low prices. Even lower here, of course. |
| | Upgrading to 2TB of SSD storage is good way of futureproofing your PC, and the BX500 means it doesn't have to cost the earth. |
| | Samsung's 870 Evo pushes right up to the limits of SATA SSD read/write speeds. At £83, it's dropped a further tenner compared to a week ago. |
| | The 870 Qvo isn't just fast - it specialises in gigantic capacities too. If you need loads of space but want to liberate yourself from HDD slowness, this 8TB version may be the last SSD you ever need. |
---
US deals:
| | |
| --- | --- |
| | The MX500 is fast enough to have tangled with the Samsung 860 Evo back in its day, and now it's become a handy cut-price storage option for tightly budgeted PC builds. |
| | The 500GB version of the speedy 870 Evo will hold a few choice games, though I'd recommend upping to 1TB if your PC build budget will stretch to it. |
| | Samsung's best SSD for gaming PCs, in a capacity that will have room for Windows and plenty of games. |
| | I'd normally recommend the Samsung 870 Qvo for monster-capacity SSD needs, but here happens to be a 4TB 870 Evo at a superior price. |
---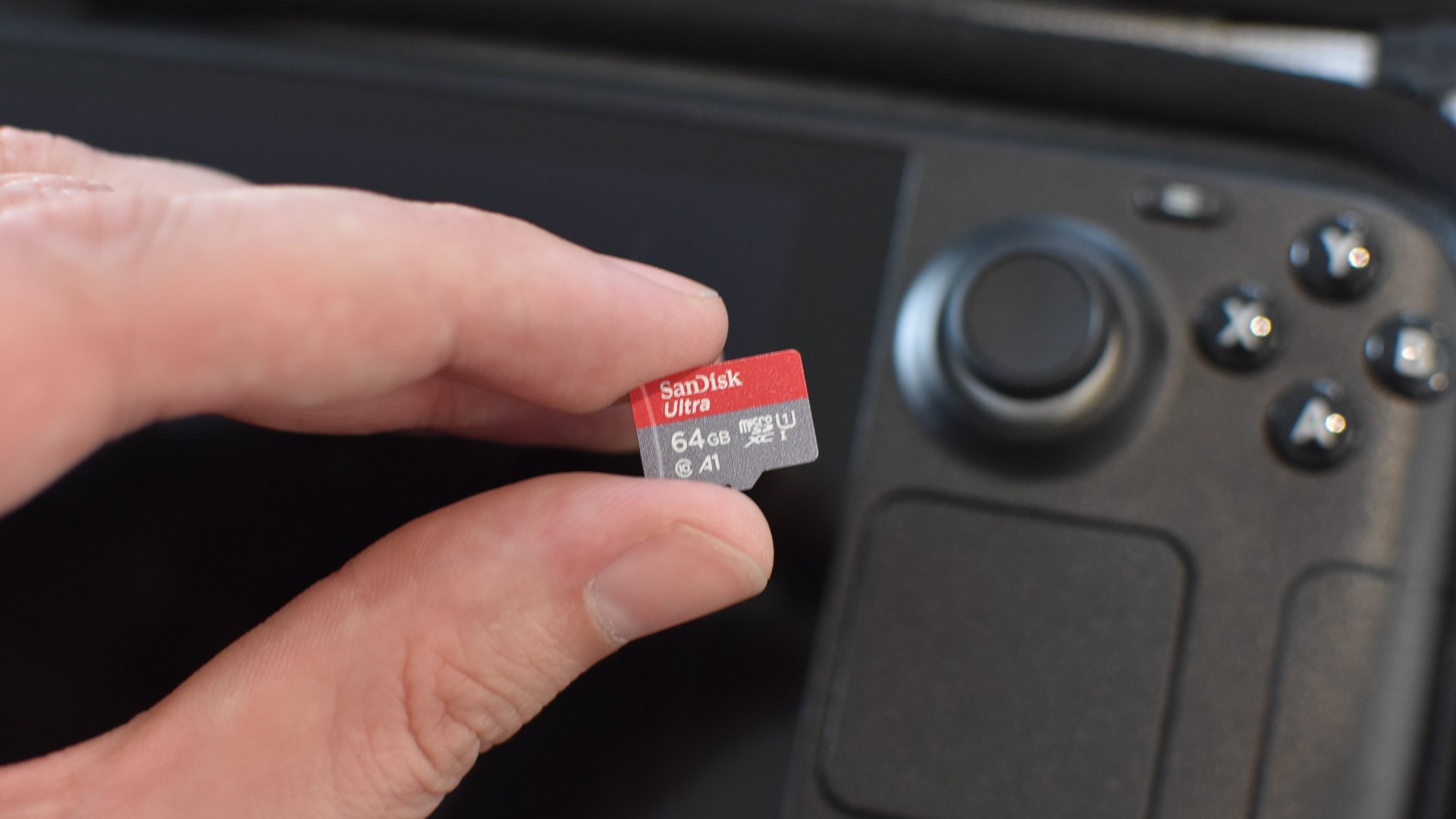 Cyber Monday microSD card deals
---
UK deals:
| | |
| --- | --- |
| | The best Steam Deck-ready microSD card you can currently buy, for less. |
| | This card will double the onboard capacity of the highest-spec Steam Deck, and although it's something of a budget model, the SanDisk Ultra was never far behind premium cards in our performance tests. |
| | This card will give your humble Steam Deck the capacity of a respectable desktop PC, and it's still pretty fast despite the low price. |
---
US deals:
| | |
| --- | --- |
| | The Samsung Pro Plus represents the best balance of price and game loading performance out of any microSD card I've tested. Just be sure to consider if 256GB will really be sufficient space. |
| | The best overall microSD card for the Steam Deck finally gets a good deal Stateside. |
| | Just because it's usually cheap doesn't mean the SanDisk Ultra can't get even more affordable. It's surprisingly fast, too. |
| | The Samsung Pro Plus doesn't have a 1TB version, so this cut-price SanDisk Ultra card is the next best thing. |
| | The Extreme Pro has been getting less expensive with every passing week, and since it's one of the best performers on game loading times, there's no complaints here. |