The best SSDs for Starfield
Warp speed SSD upgrades to satisfy an unusual system requirement
Starfield is almost unique among PC games for demanding – not merely suggesting or recommending – SSD storage as part of its official system requirements. As far as I can tell, only Bethesda's galaxy-spanning RPG and Cyberpunk 2077: Phantom Liberty make such a stipulation.
Are these requirements justified? In Bethesda's case, it's at least accurate: Starfield on a hard drive is downright broken. Faster storage is plainly necessary, so here are some solid state recommendations: a selection of our favourite SSDs that will get your PC good and ready for some Starfield space trucking.
It's increasingly difficult to overstate the performance advantage of SSDs over HDDs – besides spending less time on load screens, you'll also benefit from faster Windows booting and improved texture streaming speeds, maybe even a visible reduction of stuttering in certain games as well.
Around the last time Bethesda launched a new game, the catch was that SSDs cost many coins more than an equally capacious HDD, making it trickier to secure enough capacity. However, in the year of Starfield, that price gap has narrowed significantly. It's now easily possible to get a chunky 1TB SSD for only a few quid more than a 1TB hard drive; I've included a couple of the best-performing budget SSDs in the list below.
Likewise, if you want to prepare your PC for as speedy a Starfield spree as possible, there are also some megafast PCIe 4.0 SSDs here to choose from. Double check that your CPU and motherboard support this interface before you buy, but most components released in the last few years should be ok. You can ignore even newer PCIe 5.0 drives for now, as they're laughably expensive and don't provide the performance improvements to match.
Read on for the full list of picks, or click the links just below to jump to specific SSDs. Once you're set, you can also use our handy guide on how to install an SSD, appeasing that Starfield system requirement once and for all.
The best SSDs for Starfield
---
WD Blue SN570
The best cheap SSD for Starfield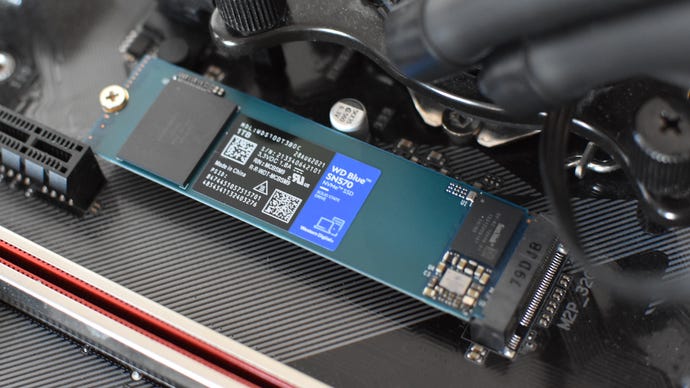 To anyone concerned about the cost of outfitting their PC with a new SSD, look upon the WD Blue SN570 and rejoice. Despite being absolutely filthy cheap for an NVMe drive – a decently-sized 500GB model will only cost about half as much as Starfield itself – its performance is eager and lively, improving massively on WD's previous budget-minded Blue SSDs. In the AS SSD random read benchmark (a good one for gaming SSDs, as load times are based on read speeds) it scored 42MB/s, not too far off the 57MB/s that both the WD Black SN850X and Samsung 990 Pro recorded.
The Blue SN570 uses the PCIe 3.0 interface, so the only downside might be that it isn't as futureproof as a 4.0 model. But then, its peak speeds are already going to be several times faster than those of any hard drive on the market, not to mention a damn sight quicker than even the finest SATA-based drives. It will definitely be able to handle Starfield, and years upon years of games beyond that.
Read more in our WD Blue SN570 review
---
Lexar SN790
The best cheap PCIe 4.0 SSD for Starfield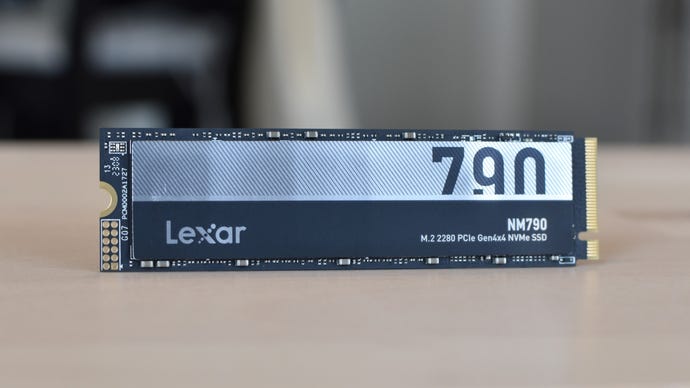 Another happy development in SSD land is that the choice of good-value PCIe 4.0 drives is widening. The Crucial P3 Plus is a worthy example of this, though my current pick of the cheap PCIe 4.0 SSDs is the Lexar SN790. This comfortably and repeatedly bested the P3 Plus in our performance benchmarks, and especially on read speeds, the ones a game like Starfield will benefit most from.
It should be a great pick for shaving off the seconds on load times, too. It got into a Shadow of the Tomb Raider save, menu to playable, in 7 seconds dead – of all the SSDs we've ever tested, that's the joint-third best on record, only behind the WD Black SN850X and Samsung 990 Pro and tied with an early engineering sample of the Crucial T700. All of which are considerably pricier SSDs, especially the PCIe 5.0-powered T700.
---
WD Black SN850X
The best PCIe 4.0 SSD for Starfield overall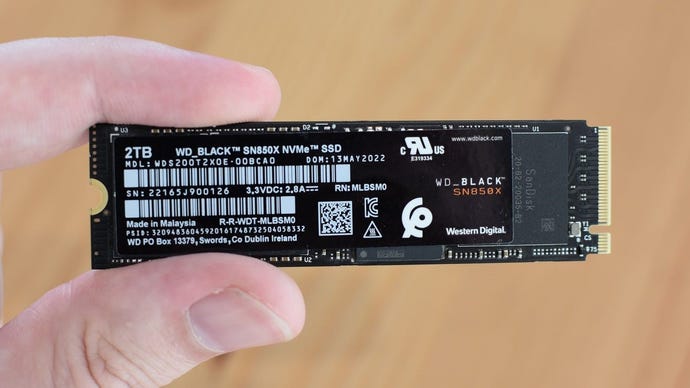 The WD Black SN850X is a cracking all-round gaming SSD, balancing excellent read and write speeds that will give your entire system a boost. Its Shadow of the Tomb Raider load speed result of 6.7s bodes particularly well for Starfield, as that's the second-fastest we've ever seen.
Why not go all the way with the Samsung 990 Pro, which was a fraction of a second quicker? Samsung's fellow PCIe 4.0 champion is indeed an excellent choice, though I'd argue the Black SN850X pips it for general desirability, with much higher write speeds and a lower price making it just ever-so-slightly a better deal. Actually, come to mention it, the Black SN850X has enjoyed plenty of price drops since we first tested it, so while it is the best premium SSD right now, it's not outrageously expensive either.
---
Samsung 990 Pro
The best SSD for cutting Starfield loading times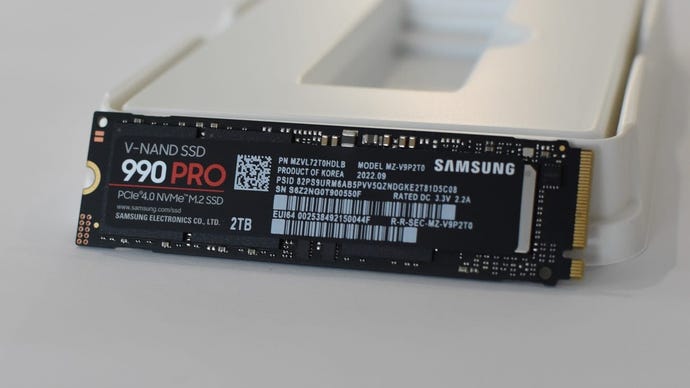 It would be unfair to call the Samsung 990 Pro a loading speed merchant and little else. This is the latest in a long line of quality Samsung-badged NVMe drives, beating pretty much all of the PCIe 4.0 competition on both random and sequential read speeds. You'd have to upgrade all the way to PCIe 5.0 to get anything significantly faster and, judging by what we've seen of these next-gen SSDs to far... you shouldn't.
To be clear, though, the 990 Pro's ability to slash waiting times is unmatched. Its 6.6s result in the Shadow of the Tomb Raider benchmark remains an RPS record, so if the presence of an SSD requirement in Starfield's minimum specs is giving you the willies, nothing else will better address your load time concerns. Like the Black SN850X, it's also much more affordable now than it was last year, even if you couldn't exactly call it a budget SSD.
---
Samsung 870 Evo
The best SATA SSD for Starfield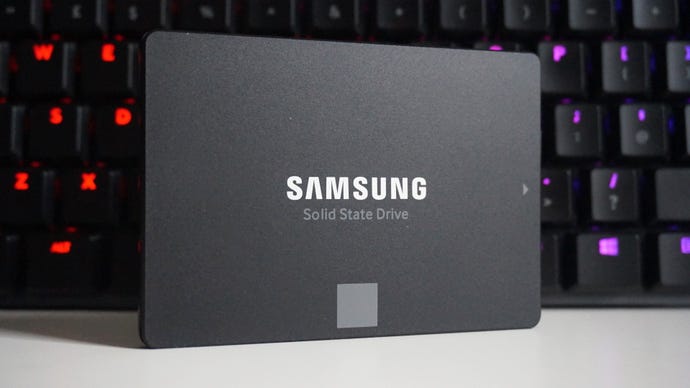 The spread of M.2 slots on modern motherboards means that yes, PCIe/NVMe drives are usually the way to go – ato say nothing of their massive performance advantage over older SATA drives. And yet, these older, bulkier SSDs will still handily outpace any hard drive, and will satisfy Starfield's solid state craving. For those on older systems and limited upgrade budgets, then, a new slice of SATA could be ideal, and there's none better than the Samsung 870 Evo.
It was the fastest SSD of its kind back it launched in January 2021, and it hasn't been surpassed or even equalled in the years since. That goes for both write speeds and those gaming-vital read speeds, so for something like Starfield, you won't find a better option in the 2.5in form factor. The 870 Evo also rates highly for endurance (the amount of terabytes you can write to it before it gets worn out) and has an appreciably wide variety of available capacities. The smallest, 250GB, will be eaten quickly by the 125GB Starfield, but otherwise you can choose between 500GB and 4TB.
Read more in our Samsung 870 Evo review