Black Ops To Charge For Dedicated Servers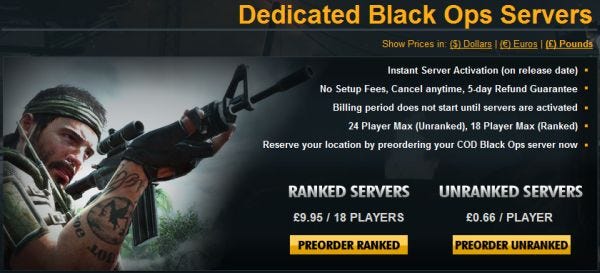 Let's recap. The PC version of Modern Warfare 2 didn't have dedicated servers, and there was much pulling of hair and spontaneous internet howling. More recently, Treyarch confirmed that Call of Duty: Black Ops (out November 9th) would have dedicated servers. It was Infinity Ward that abandoned the PC, not them, they said. In an interview with C&VG, Treyarch studio head Mark Lamia said "I think dedicated servers are excellent." Things were looking rosy.
Rosy like a rush of blood straight to the rage glands, it turns out. According to this article on IGN, Blacks Ops will be only offering dedicated servers through server rental site GameServers.com, where you'll be paying £9.95/month for an 18 player max ranked server, or 66p per player for a month of an unranked server.
Hardly what we were expecting, to put it lightly.