Brigador Is Syndicate Crossed With Walker, And Very Cool
So very very cool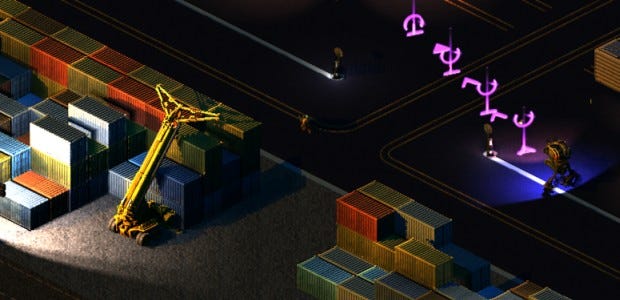 Brigador is cool. I've had a build for the isometric mech combat game for a week now, and I've spent that time playing it and considering it and this is the core of my thinking. Its hyper-detailed pixel art nightscapes are cool. Its electronic music by Makeup & Vanity Set is cool. Its mixture of all-out combat and tactical semi-stealth is cool. Its evocation of late-'80s/early-'90s scifi films and Amiga games is cool.
A fuller account of my thoughts and feelings will follow at a later date, but for now I thought you might like to watch the most recent trailer for the game. It's cool.
Wasn't that cool?
Brigador begins with the selection of which mech you're going to pilot: something tall, stompy, traditional, or something small, hovering, nippy. How you then approach the challenge that follows changes accordingly. Tall mechs make a lot of noise and are easily spotted over buildings, but they're also powerful, able to carry more weapons and can shoot from range. Your smaller vehicles meanwhile can hide behind obstacles and speed quickly across open terrain, allowing for stealthier approaches towards whatever it is you're ultimately trying to destroy.
The game isn't finished yet. At the time of writing, pre-ordering costs $15 and nets you a Steam key for the finished release. I'll have more thoughts hopefully later this week, but in the meantime I'm going to continue listening to more music by the people doing the soundtrack.
Also I'm going to think about what it would be like if this was Syndicate crossed with our John Walker rather than this Walker. If you're not familiar with the latter, Eurogamer helpfully posted this retrospective yesterday.