Bus Simulator 18 out now, with mods & multiplayer
All aboard!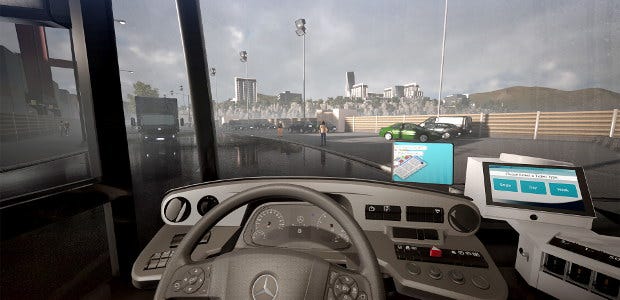 In a week full of loud of colourful E3 announcements, what has me most immediately excited is the prospect of getting online with three pals to drive bus routes together in Bus Simulator 18. Released today, it's a drive-o-business sim about, y'know, driving buses - with multiplayer! You can pass each other while driving your routes, go explore the city on foot together, and even ride the bus as a ticket inspector while your mate takes the wheel. Video games are amazing.
I am further delighted to hear that it has launched with mod tools that will let people create new maps, new buses, new missions, and such. In short, yes, you could create the Vengabus and make it play We Like To Party.
Developed by Stillalive Studios and published by Astragon, Bus Simulator 18 does about what you'd expect in and around a European town. Driving buses! Selling bus tickets! Planning bus routes! Buying buses! After becoming fond of American Truck Simulator, the basics sound chill to me.
Multiplayer is what makes me most interested. Playing with pals can make up for a game's shortcomings, and... I'm not saying this falls short, as I haven't played it, but Astragon have published many ropey sims so I wouldn't be surprised.
But look, look at all this:
And in case you missed it in there, this moment:
Yes, bus driver responsibilities include dealing with problems like loud passengers and rubbish. Amazing.
If you don't mind getting your hands inside Unreal Engine 4, you can mod it too. See this guide for how to get started. Or for folks who simply want to play mods, hey, see its Steam Workshop.
More than driving the Vengabus, I'd like to drive around recreations of places I know - including maybe some ripped from other games. As much as I respect intellectual property law, I would like so very much to drive bus routes with the lads around the Playerunknown's Battlegrounds island of Erangel. A spicy #17 from Novorepnoye to Primorsk via Mylta.
Bus Simulator 18 is out now on Steam, with a 10% launch discount making it £24.29/€26.99/$31.49. Folks who buy it soon after launch will get another custom bus interior (with zesty upholstery!), which will later be sold as DLC, for free. All aboard!