Crack on: Amanita's Chuchel is out now
Bless this hangry little idiot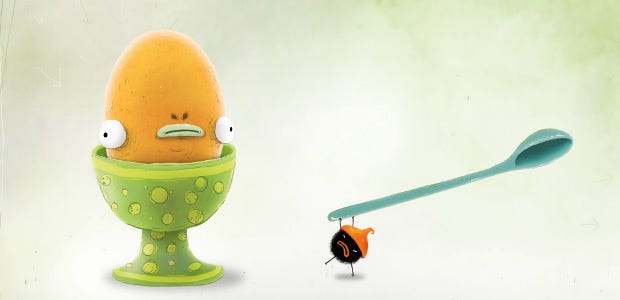 The wonderfully colourful and funny Chuchel, the new adventure game from Samorost and Botanicula makers Amanita Design, is now out. Our John gushed praise in his Chuchel review but who can remember as far back as yesterday? "A tour de force of animation", he said. "Daft happiness at its purest, titrated into gaming", he said. For a game this great, a reminder is warranted. Ah, I laugh just seeing this angry little squiggle. Look:
Bless your little cotton socks, you hangry idiot. Here's John again to explain more:
"The game plays out in a number of mini-chapters, almost like episodes of a mad cartoon, where a sequence of screens or challenges or puzzles will end with the game's name crashing into screen, invariably squishing our hero, then launching off in another lunatic direction. The persistent theme is that little Chuchel wants that damned cherry, and is constantly being thwarted by a little pink bug creature, and a giant omnipotent brown hairy hand that descends from the top of the screen. One scene you'll be trying to arrange bizarre amphibious creatures such that they provide a crude Rube Goldberg means of reaching a high-up space, in another you'll just be laughing your face off as you try to crack the head of a poor egg-like monstrosity through a series of sequences. There are mini arcade games, there are extended animated sequences to just sit and thoroughly enjoy, there are incredibly bizarre action sequences in which you must punch away an army of invading sentient teeth."
Splendid.
Chuchel is out now for Windows and Mac, priced at £8/€10/$10 and a couple quid more for an edition including the fab soundtrack (by DVA, of Botanicula fame). It's available through Steam, GOG, Itch, and a Humble widget on the game's site. Itch and Humble offer Steam keys in addition to DRM-free downloads.
While I'm here, check out this chuffing choon from the soundtrack.