Go West In Company of Heroes 2 Multiplayer Standalone
New armies in standalone or DLC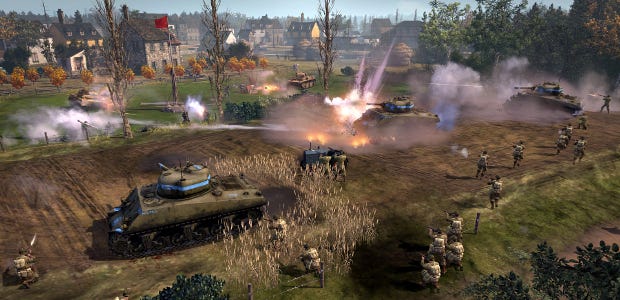 As summer slowly creeps up on us, what we want is sunshine and dappled shade upon green grass, not ice and snow and muted tundra. Relic understand this, and are bringing Company of Heroes 2 to pleasant western Europe. The RTS is introducing new maps and armies from the western front in a standalone multiplayer release, due to arrive this June.
Company of Heroes 2: The Western Front Armies includes eight new multiplayer maps set across the region and the seasons, along with new armies in the shape of the US Forces and Germany's Oberkommando West. Each brings new infantry units, weapons, vehicles, abilities, and all that.
The standalone will also able to play regular CoH2 maps with regular CoH2 players, and vice versa, as well as AI matches. Buying any one individual Western Front army for $12.99 will get you the client, or they'll both be bundled together for $19.99. We've asked Sega if they might possibly be so kind as to tell us the UK prices too.
It's a strange and mildly confusing approach to a standalone release but, as a large playerbase is so very important for any multiplayer-driven game, probably a sensible one.