Dark Souls 3 prepares for the end in Ringed City trailer
This is almost the end, one of my few friends, the end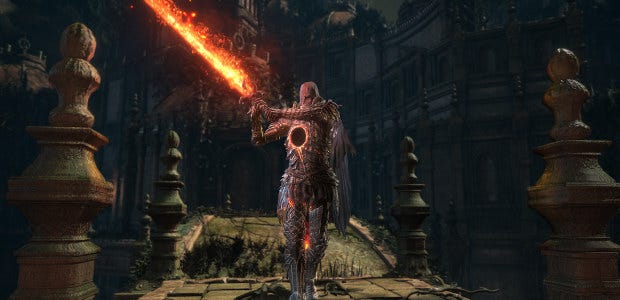 This is nearly the end, one of my few friends, nearly the end. Tuesday will bring the launch of The Ringed City, the final DLC for Dark Souls 3 [official site], the final Dark Souls game. I can forgive publishers Bandai Namco for slinging out The Ringed City's launch trailer four days early because heck, what a run it's been. In a series about the endless ends of the worlds, this last one's sure to be a biggun. Spoilers follow, obvs.
A new patch is out today too, paving the way to The Ringed City.
And since you're evidently in here, curious to peek at the end, I may as well repeat the blurb about what's in this DLC:
"At the close of the Age of Fire, as the world ends and all lands converge upon themselves, a lone adventurer descends into the madness of the earth and uncovers the secrets of the past. As players make their way to the fabled Ringed City they will encounter ancient beasts, a new cast of characters teetering on the edge of insanity, new armor, weapons, magic, and at the bottom of it all, a long lost city filled with new horrors for players to overcome."
You can see some of those weapons and abilities in the trailer. I am hugely into the shield so huge it looks like a door and can shove back hordes of enemies. Bandai Namco have some new spoilersome screenshots too.
Tuesday, March 28th is the big day. The end. It'll cost £11.99/14,99€/$14.99 on Steam by itself and is also sold with the other DLC, Ashes of Ariandel, in the Season Pass for £19.99/24,99€/$24.99.
Today is merely almost the end. Today's patch brings bug fixes, two new Undead Match maps, and a good number of balance tweaks. Ultra Greatswords, Great Hammers, and Curved Great Swords in particular get some tidy little buffs. Why not strike your final blow of Dark Souls with a sword bigger than yourself?