Dark Souls III Anti-Hack Patch Pulled To Fix Freezing
Frostbite, yes; freezing, no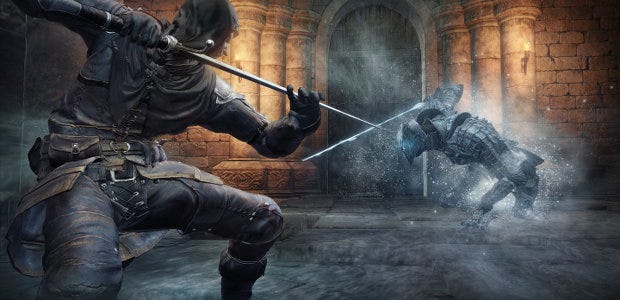 A Dark Souls III [official site] patch released on Friday, intended to combat online hackers, has been pulled as it was also making framerates stutter. That wasn't intended, obviously. Wasn't another devious twist from those scamps at From Software. The stuttering wasn't tapping out a rhythm to reveal a secret boss, which players needed to repeat by bashing the Firelink Shrine bonfire with a broken straight sword. Nah, it was simply a bug. So From Software have pulled the patch, and plan to release a new anti-hacker update once this is sorted.
The official word today is:
"The patch has been removed temporarily to fix the freeze issues. We hope to reinstate the patch ASAP. If you fall victim to one of the bugs previously fixed, don't worry, you won't be penalized. We will keep you posted as soon as we have more info. Thank you for your understanding."
It had been intended to fix the problems of hackers online transforming players into dragons (not as outlandish as it sounds: Dark Souls has items to dragonify you, as seen in Brendan's fight club), sending them to Firelink Shrine, or sending them to their own world. Dark Souls III hacks can be flagged as cheating even if someone forced this on your character, so it was even less fun than it sounds.
But, er, those problems are temporarily back until From Software release a new patch without stuttering. I believe this patch wasn't fixing every known hack either, so hopefully more fixes are to come beyond this.
Publishers Bandai Namco say that they do have a team check accounts out before properly punishing them. Here, they have a guide about the "Invalid Game Data" warning message, penalising people, and all that.