Praise The Sun: Dark Souls Ditches Region Lock
DSFix updated again too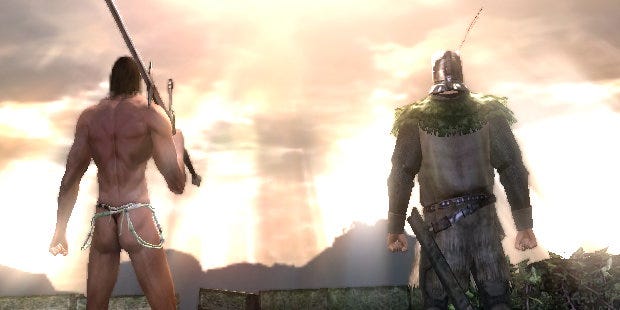 Most of my favourite Dark Souls memories involve other players. Murdering people who dared step foot in a forest after I thought it'd be funny to pledge allegiance to a giant cat. Helping people murder Ornstein and Smough. Being murdered by other people who'd pledged allegiance to other odd forces. Having someone who'd been watching my stream turn up and drop a weapon when mine was almost broken far from help. So huzzah, then, that they've removed a multiplayer region lock introduced in the shift to Steamworks. Having more worlds to breach is always good.
The nasty niggle arrived as Dark Souls ditches Games for Windows - Live and moves to Valve's Steamworks. Folks were finding they couldn't join pals in other parts of the world, which is no fun. Worse, a lock cuts down on the number of potential invasions and interactions. Sure, long-distance invasions can be laggy, but I'd rather suffer that than see fewer world-sharing moments.
If you haven't yet updated Dark Souls to the currently-in-testing Steamworks version, by the way, do remember to do that soon. Right now, you can transfer saves and achievements over, but that won't work forever. Publishers Bandai Namco are only guaranteeing transfers until February 16th.
In other Dark Souls Steamworks switchover news, DSFix, the fan-made tool fixing a lot of the janky bits in Dark Souls' PC port, may have received its final update. The latest version should automatically work with any future Dark Souls patches, meaning it won't go wonky when From Software update the game.
I really must get around to playing Dark Souls II some day, but at this point I may as well wait for the revamped re-release Scholar of the First Sin.