Diablo 4 battle pass details: Cost, rewards, and leveling info
Blizzard has promised there will be no "pay to power" mechanics
How does the Diablo 4 battle pass work? We're suckers for good battle passes, particularly if they contain an array of fantastic cosmetics such as mounts, armor, and other things to allow us to customize our characters with the sweetest drip in all of Sanctuary.
Blizzard has been adamant that the Diablo 4 battle pass won't contain any "pay to power" mechanics, a massive reassurance for a hardcore player base that prefers a level playing field in the action RPG series.
Here's everything you need to know about the Diablo 4 battle pass, including how it works, its cost, and what you can expect throughout the season.
How much does the Diablo 4 battle pass cost?
The Diablo 4 battle pass consists of a free base pass and optional paid pass. The free pass is open to all demon hunters who own the game, while the Diablo 4 Premium battle pass will cost $10 for the season. The Diablo 4 Accelerated battle pass contains all benefits of the Premium battle pass, grants 20 free battle pass tier skips, and also gives players a special cosmetic, all for around $25. However, it's important to know that tier skips apply only to cosmetics and do not confer any leveling benefits. The free track contains 27 tiers, while the paid track contains 90 total tiers.
Players who do not purchase tier skips can expect to spend about 80 hours leveling the battle pass throughout the season, which should last about three months.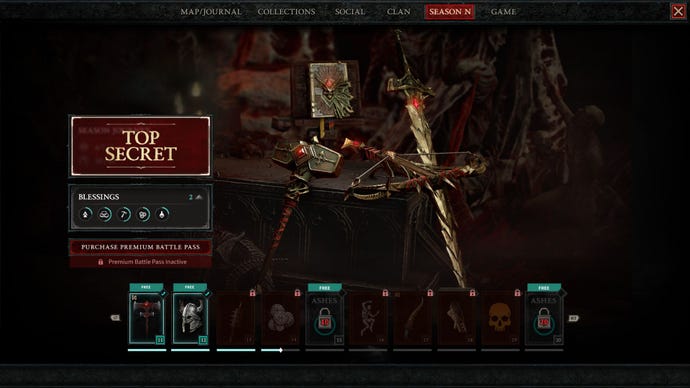 What do you get with the Diablo 4 battle pass?
Players willing to shell out for the Premium battle pass will get plenty of cosmetic rewards, including two full armor sets, a seasonal mount, and mount armor. If you opt to purchase the battle pass later in the season, any progression you've already made through the season will apply retroactively.
The free battle pass, open to all players, consists of cosmetics and additional rewards. However, the free pass is also tied to an element called Smoldering Ash, which players can use to purchase Season Blessings. As an in-game currency, Smoldering Ash is designed to prevent players from being able to simply pay real-world money to purchase Season Blessings by purchasing tier skips. Blizzard remains adamant that the premium battle pass and game contain no "pay to power" mechanics.
Therefore, those who purchase tier skips will still get cosmetics but cannot get power level benefits as they must complete the prerequisites of the free battle pass to earn Smoldering Ash. Put another way, players cannot pay for Smoldering Ash via battle pass tier skips. They must level their character to earn Smoldering Ash through the free season pass, which requires meeting level requirements before demon slayers can turn in Smoldering Ash for power level benefits.
Season Blessings include things like XP boosts that make leveling multiple characters faster, Gold, and Obols, and these benefits last only until the season's end. Players can choose to spend their earned Smoldering Ash as they like.
You will level up battle pass tiers with Favor, which you can earn by completing seasonal objectives. You can also earn Favor from quests, slaying monsters, events, and more.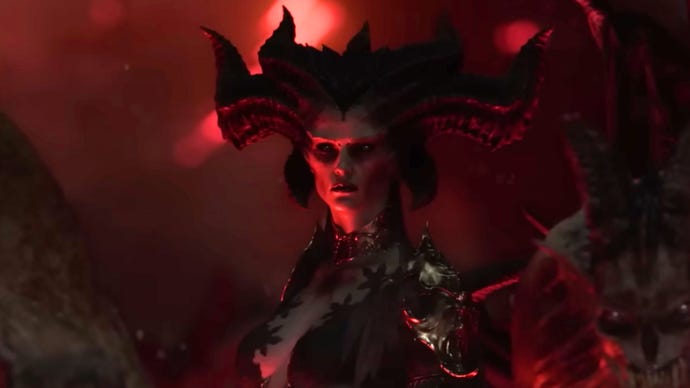 How do Diablo 4 battle pass seasons work?
The battle pass and rewards will reset each season. Therefore, Diablo 4 players who want seasonal Premium battle pass cosmetics must purchase a each season's new battle pass. Each seasonal battle pass will grant all-new cosmetic rewards.
Demon slayers can expect the game's first season to debut in "mid-to-late July," which gives players at least a month to play through the campaign and post-campaign content before diving into seasonal content. It would follow that the first season pass won't be available until that time, as the battle pass appears to be tied to seasonal content and objectives. You can, however, purchase cosmetics from the game's store in the timeframe before the battle pass launch.
Check out our guide to learn more about Diablo 4 seasons and seasonal content releases.
That's everything you need to know about the Diablo 4 battle pass. If you're planning to slash some demons in the depths of Sanctuary come June, you won't want to miss our best Diablo 4 Barbarian build, best Diablo 4 Rogue build, and best Diablo 4 Necromancer build guides to assist you along your way. We've also got an interactive Diablo 4 map to help you find your way around the game's hellish world.
---
Activision Blizzard are currently the subject of a number of legal actions, labour disputes and allegations of workplace harassment. Rock Paper Shotgun will continue to write about these issues, as well as covering Activision Blizzard games as part of our commitment to cover subjects of interest to our readers. The latest news can always be found under our Activision Blizzard tag.