Diablo IV PC performance, system requirements, and the best settings to use
Making Hell sing
If there's a single upside to the collapsing standards of technical competence among big-budget PC games, it's that when something like Diablo 4 comes along and simply performs well, there's an almost pleasant relief to it. Like your bus arriving on time, a minute after watching the previous, late-arriving one flip onto its roof attempting a handbrake turn.
It's not perfect, but Diablo IV does run smoothly for the most part (also sorry Google, but I'm going back to Roman numberals), and its system requirements on PC are as likely to involve museum pieces as they are the latest and priciest graphics cards. I've put some hours into the early access build and have come up with a best settings guide, but in truth, this will likely just optimise your framerates – Diablo IV's higher quality settings rarely trouble it, especially at 1080p.
It even works quite well on the Steam Deck, thanks to a combination of low hardware requirements and Blizzard's good work in making Diablo iV playable on gamepad controls. We'll focus on desktop performance and settings here, though.
---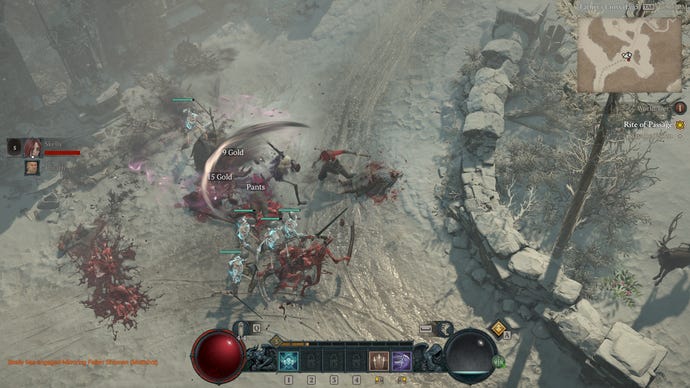 Diablo IV system requirements and PC performance
Even if you're still making do with decades-old kit, Diablo IV is all but certain to run on your PC, and it scales well up to gleaming 4K too. The only real points of potential bother are the always-online requirement, the bumper 90GB of storage you'll need for installation, and the use of an SSD specifically. Diablo IV will still function if you whack it on a hard drive, but expect lengthy load times, as it can take a while to get into the game even on a PCIe 4.0 NVMe SSD.
Diablo IV minimum PC specs (720p / 30fps)
OS: Windows 10 64-bit (version 1909 or newer)
CPU: Intel Core i5-2500K / AMD FX-8350
RAM: 8GB
GPU: Nvidia GeForce GTX 660 / AMD Radeon R9 280
DirectX: DX12
Storage: SSD with 90GB available space
Internet: Broadband connection
Diablo IV Medium/recommended PC specs (1080p / 60fps)
OS: Windows 10 64-bit (version 1909 or newer)
CPU: Intel Core i5-4670K / AMD Ryzen 3 1300X
RAM: 16GB
GPU: Nvidia GeForce GTX 970 / AMD Radeon RX 470
DirectX: DX12
Storage: SSD with 90GB available space
Internet: Broadband connection
Diablo IV High PC specs (1080p / 60fps)
OS: Windows 10 64-bit (version 1909 or newer)
CPU: Intel Core i7-8700K / AMD Ryzen 7 2700X
RAM: 16GB
GPU: Nvidia GeForce RTX 2060 / AMD Radeon RX 5700 XT
DirectX: DX12
Storage: SSD with 90GB available space
Internet: Broadband connection
Diablo IV Ultra 4K PC specs (4K / 60fps)
OS: Windows 10 64-bit (version 1909 or newer)
CPU: Intel Core i7-8700K / AMD Ryzen 7 2700X
RAM: 32GB
GPU: Nvidia GeForce RTX 3080/ Nvidia GeForce RTX 40 series for DLSS 3 / AMD Radeon RX 6800 XT
DirectX: DX12
Storage: SSD with 90GB available space
Internet: Broadband connection
Half the GPUs listed in these specs are so old that I don't have any of them in my cupboard o' things, so to test Diablo IV's low-end performance I subbed in a GeForce GTX 1050 Ti. This is a little less powerful than the GTX 970, so for 60fps at 1080p, I'd say Blizzard's recommendations are pretty spot on: with a Core i5-11600K and 16GB of RAM, the GTX 1050 Ti averaged 66fps on the Low quality preset and 56fps on Medium.
Going up the 10-series one step, to the GTX 1060, further proved that older hardware ain't no thing to Diablo IV. Again using 1080p, this card averaged 107fps on Low, 87fps on Medium, 75fps on High and 62fps on Ultra. Pre-RTX Nvidia GPUs can't take advantage of Diablo IV's DLSS support, but AMD FSR 2 is available for upscaling duty on GTX, Radeon and Intel Arc models.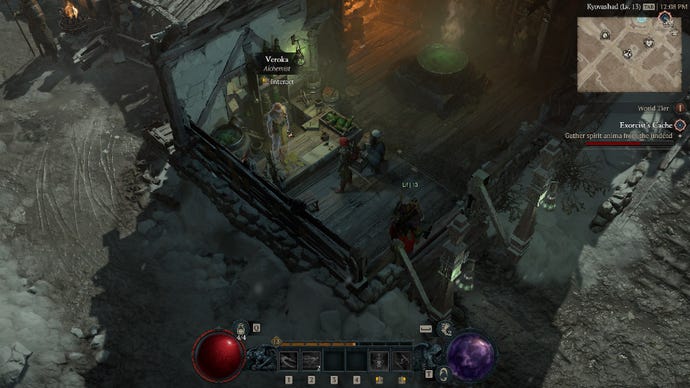 At the luxury end of the scale, I'm less convinced that 4K does in fact need an RTX 3080 or RX 6800 XT, or indeed 32GB of memory. My RTX 3070 was perfectly capable at this resolution, averaging 64fps on Ultra quality, and DLSS 2 upscaling – on its sharpest-looking Quality setting – worked wonderfully to bring that up to 96fps. There was some very occasional mini-stuttering, but I don't think that's specifically down to a lack of RAM or VRAM as I also sometimes got it on lower resolutions and settings.
Yes, unfortunately Diablo IV can stutter, though at least it's a rarer occurrence than it's been in most big 2023 releases. I've only noticed it three or four times across hours of play, and mainly while exploring open areas; I've yet to have these hiccups interrupt a raucous skeleton fight while dungeon diving.
The only other fix-starved problem I encountered was a dodgy DLSS 3 implementation. Anyone with an RTX 40 series GPU can enable AI frame generation for an easy framerate boost, as well as standard DLSS 2 upscaling for the same purpose, but when selecting both together, frame generation stops working. For me, anyway – I haven't seen much widespread complaining from other early access players, so whether this issue occurs may involve some basic bad luck. Hopefully it gets patched regardless – though for what it's worth, the DLSS + frame gen combo is far from essential on the invariably mighty RTX 40 family. I tried the (current) weakest of the lot, the new RTX 4060 Ti, and this averaged 52fps at Ultra / 4K without any help at all. Quality DLSS bumped it up to 83fps, while un-upscaled frame generation got it to 69fps – so if you also can't combine the two, DLSS is the tool to use.
---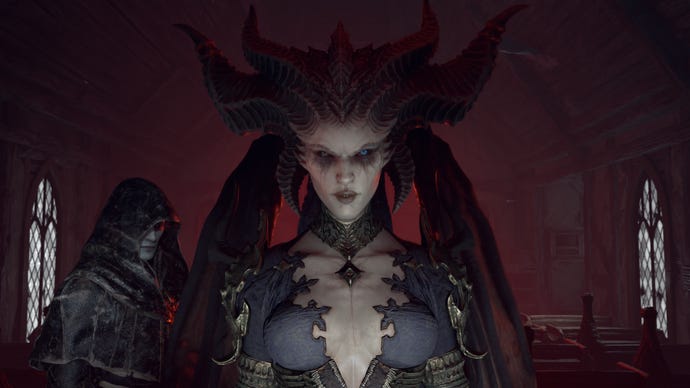 Diablo IV best settings guide
Outside of those two blemishes, Diablo IV is technically sound enough that maxed-out quality is probably worth trying, at least on relatively new hardware. Orrrrrr you could spend a few seconds customising the toggle-rich amassment of individual settings, balancing visuals with speed to make performance even better. Think of it as min-maxing, only for ambient occlusion instead of the rate at which you throw bones at demons.
First, we'll look at each of these settings to find out their performance impact, before building a best settings list from the results. Our control GPU will be the still-popular GTX 1060, running at 1080p – so we're looking to improve on the Ultra preset's 62fps average.
DLSS/FSR 2: Diablo IV provides a choice of upscalers. The best-looking of these is DLSS on its Quality setting, though that's exclusive to GeForce RTX GPUs, with DLSS 3's frame generation further limited to RTX 40 series models.
The GTX 1060 doesn't fall into either camp, though can still use FSR 2, the Quality mode of which turned that 62fps average into 72fps. It's worth considering, though arguably more so at 1440p and 4K than at 1080p. DLSS, meanwhile, improved the RTX 3070's Ultra / 4K performance by 50%, and the RTX 4060 Ti's by 60%.
Texture Quality: There's actually little to gain from lowering this, judging by how Medium textures only added 2fps to the GTX 1060's average. You could try Low, but it's ugly as sin.
Anisotropic Filtering: Again, leave this at full whack. Dropping from 16x to 2x didn't improve performance at all.
Shadow Quality: Switching from Highest to Medium shadows yielded a rise to 67fps, and didn't make Diablo IV's visuals much worse off. I'd lower this one.
Dynamic Shadows: A tough choice here. Disabling the dynamic shadows toggle had performance shoot up to 77fps, but the visual loss was stark – it does look weird, even by high fantasy standards, for your character not to cast a shadow. Maybe switch it off for very low-end PCs but keep it on otherwise.
Soft Shadows: Turning this off added a mere 1fps to average performance, so probably isn't worth it.
Shader Quality: No change at all for the GTX 1060 when dropping shaders from High to Low.
SSAO Quality: Now here's another setting for the chopping block. Switching from High to Low is barely visible in motion, yet propelled the GTX 1060 up to 69fps in a single click.
Fog Quality: Low quality is worth trying, as it got the GTX 1060 up to 67fps.
Clutter Quality: Go for Medium quality here, I reckon. There are lower settings but Medium delivers a healthy performance boost as it is, allowing the GTX 1060 to average 69fps.
Fur Quality Level: Alas, this breaks the streak of impactful settings, as lowering fur quality didn't improve my average FPS at all.
Water Simulation Quality: Despite the occasional appearance of some rather rank bodies of (likely body-filled) water, toning down liquid effects won't help performance much. I got 62fps on Ultra and Medium quality alike.
Anti-Aliasing Quality: Keep this turned up, as the Low setting only netted an additional 1fps. Though if you elect to use one of the upscalers listed above, Diablo IV's own AA gets overridden anyhow.
Geometric Complexity: Keeping this on High can be good for very fine environmental details, but the performance gain from Low – I got 67fps – is hard to ignore.
Terrain Complexity Detail: Another borderline meaningless 1fps difference between High and Low. Look elsewhere for changes.
Physics Quality: No difference at all to report between High and Low physics simulation, so stick to High.
Particles Quality: Surprisingly, given the glitter bag of visual effects that explodes in most enemy encounters, dropping this from High to Medium did nothing to average FPS.
Reflection Quality: It's 62fps once again from Low reflections, so High is fine to keep.
Screen Space Reflections: I got a little 4fps boost from disabling SSR, though the aesthetic quality of some areas definitely diminished. Maybe worth turning off in a pinch, but there are better settings to drop first.
Distortion: No performance change here, with the GTX 1060 scoring 62fps with distortion both on and off.
Low FX: This is a more visibly noticeable version of what I imagined Particles Quality would be, toning down the visual richness of various attack and spellcasting effects. It's not much help, though, doing nothing to improve on that 62fps average.
The game's generally good performance lets us be picky with which settings to sacrifice, with some of those only needing to drop to Medium – not always Low – in exchange for a healthy FPS increase. Here's what I'd call Diablo IV's best settings on PC:
Shadow Quality: Medium
SSAO Quality: Low
Fog Quality: Low
Clutter Quality: Medium
Geometric Complexity: Low
Everything else: Ultra preset equivalent
With just these five adjustments to the Ultra preset's settings, the GTX 1060's average performance lept from 62fps to 92fps: a 48% increase with only minor reductions to visual quality.
As for upscaling, I don't advise it at 1080p, partly because you've a good chance of high performance at native resolution anyway and partly because even DLSS can look blurry at Full HD. For 1440p and 4K, sure, throw it in. I'd recommend the Quality setting for both DLSS and FSR, depending on what your graphics card supports, with DLSS being ideal.