Traditionalist JRPG Dragon Quest 11: Echoes Of An Elusive Age is out on PC
Quests, Ages, Lairs and Balls. Dragons have it all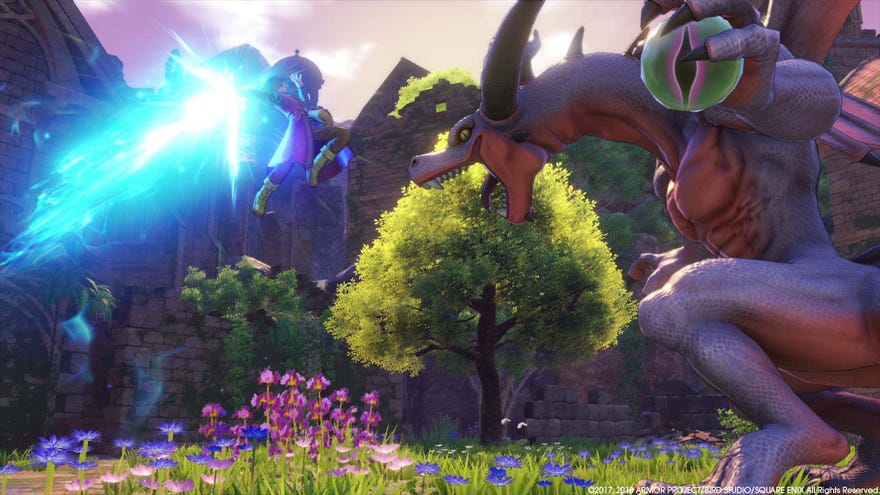 Today's launch of Dragon Quest 11: Echoes Of An Elusive Age feels momentous. While we've missed out on the first ten, Dragon Quest 11 is the first mainline game in the series (Dragon Quest Heroes 2 was nice though) to land on our humble and flexible platform.
Square Enix's long-running series has done much to define the JRPG as a genre and console cornerstone since 1986, and not much has changed in the series since then. Dragon Quest 11 promises a new but familiar story of magic swords, evil lords and cranky dragons to PC - unpretentious, bright, sunny and fit for all ages. Below, the launch trailer.
While I've yet to play it myself, reviews for the console versions of Dragon Quest 11 have been glowingly positive so far. If you've never played a Dragon Quest game before, expect a self-contained fairy tale plot, propped up with well animated but straightforward turn-based RPG combat. More recent games have been buoyed by a charmingly pun-laden script and all-British voice cast too. The character and consistently adorable monster designs are also courtesy of Akira Toriyama, who is better known in the west for his depictions of dragon's balls, rather than their quests.
While traditional - right down to framing some fights just as they looked on NES - Dragon Quest 11 modernises its formula a little. Random encounters are replaced with wandering monsters on the overworld, which can be evaded or punted away by your galloping horse if you don't feel up for a fight. Character progression happens through a skill tree, letting you customise your party member's roles outside of whatever gear you slap on them. You can also swap active and reserve party members mid-combat, which is a feature I'd love to see all old-school RPGs offer.
Dragon Quest 11: Echoes Of An Elusive Age is out now on Steam and Humble for £40/€60/$60. There is no special edition, no season pass, and no DLC planned - just like the old days.