Dreamfall Chapters Engine Upgrade Boosts Performance
All three episodes revamped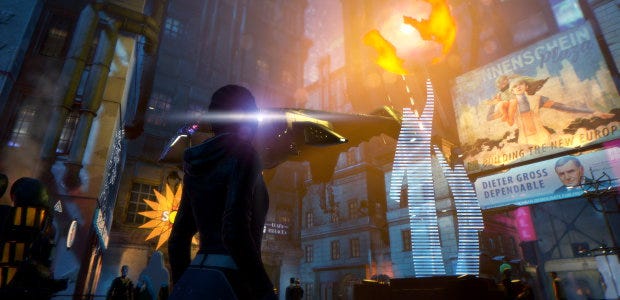 Good news: Dreamfall Chapters [official site] should now run better and look prettier for you. Developers Red Thread Games yesterday released a hearty update boosting it from Unity 4.6 to version 5.2 of the engine, which brings better performance, nicer lighting, 64-bit support for folks stuffed with RAM, and more. The first three episodes are now shunted over to Unity 5, and future eps will launch on it. Bringing the game over has been an effort and a half, mind, says head honch Ragnar Tørnquist.
First, the good news. In yesterday's blog post about the switch, Tørnquist explains:
"It's hard to say exactly how much of a performance increase players will see, but in informal, internal tests — along with several reports from beta testers — the frame-rate has increased by a factor of 50–200%, while simultaneously doubling the distance at which shadows are drawn, and allowing more users to enable the 'awesome' setting, along with other visual effects."
Not bad, that. Effects like fog and fire are fancier too, texture materials like leather and skin and whatnot look more realistic (look, I'm being non-technical here), and the whole game has been re-lit with Unity 5's new lighting tech, Enlighten. Tørnquist says they "haven't attempted to exactly replicate how the game looked before the port. Instead, we've strived to create the ambience and look we always wanted to achieve — something that wasn't always possible with Unity 4, but is now potentially possible with Unity 5 and Enlighten."
The switch has been in public beta testing for a while, but is now live for Windows and will follow onto Mac today then Linux later this week or early next.
It's been a lot of work, though - way more than Red Thread expected. What they thought would be "a couple of months" of part-time work for a few folks ended up taking four months and pushing people into working overtime. He says it probably cost them "in excess of $150,000", which is "a painful amount of money for a small — and cash-strapped — studio like ours." Oof. Do read the rest of the post for more on why they wanted to switch and what made it all take so long, if you're curious.
Tørnquist has also uploaded a load of big screenshots showing how it looks now.