Where Do Zombies Come From? Dying Light Explains
When two zombies love each other very much...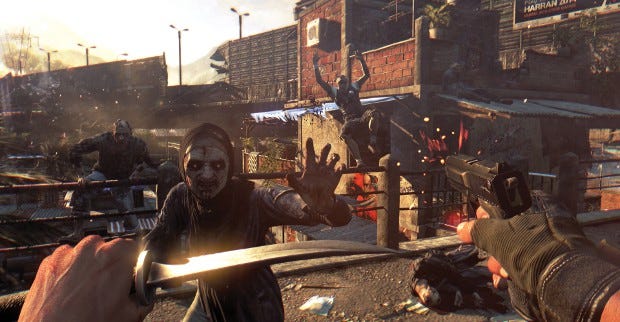 "Where do zombies come from?" my little niece asked the other day. As The Cool Aunt, I thought I could handle this. "Well, small child," I said, "when two zombies love each other very much, and want to... ah." Sweat poured down my brow. I started over, "The thing about flesh is... no, no. Okay, so, you may have noticed that people..." If only Dying Light's cinematic intro had arrived in trailer form a little sooner, I might be welcome at this year's family Christmas dinner.
Dying Light's the next open-world zombie shooter from Dead Island creators Techland, this time with parkour, grappling hooks, and rushing to get things done before the sun goes down and the real nasties come out. Dead Island is continuing at other developers, fragmented into sequels and spin-offs by publishers Deep Silver, who own it.
[Psst, hey, can we sidebar a bit? This is one of the sorts of posts I struggle to write. Yes, it's a fluff trailer, but it's a game I know a fair few people are keen to play, and one folks might fancy discussing together. We haven't posted about Dying Light in two months, so a "Hey this video exists anyway wanna chat about it with your fellow lovely readers?" post is a nice thing to have, isn't it? Perhaps if my introductory lie was more entertaining. Oh, I don't know!]
Dying Light is due on January 27th. If you watch this intro now, from your very first play you can confidently mash Escape while the game loads to skip the inevitable half-dozen splash screens.