Dying Light's free Prison Heist rewards speed with loot
The quick and the undead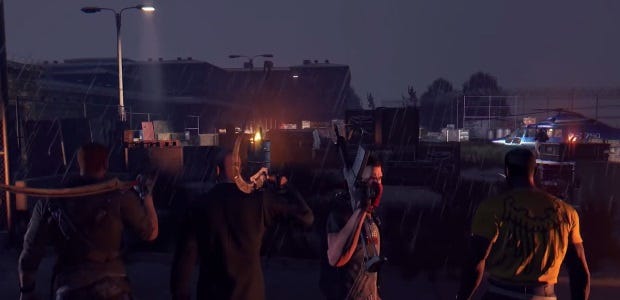 Dying Light, like the best of zombies, keeps on picking itself up to take a bite out of my free time. Yesterday, Techland's cult hit zombie parkour sandbox was blessed with yet another chunky free content update, adding a lengthy new mission for 1-4 players set in Harran's zombie-and-soldier infested prison. Players still exploring the Old Town streets might also bump into a unique Demolisher zombie mini-boss wandering about, hucking bloody great chunks of concrete at less wary players.
While advertised as a 'new game mode', the Harran Prison Raid is more along the lines of existing Quarantine Zone side-missions, only on a somewhat larger scale. Accessed via a boat on the edge of the Slums zone, you can now travel to the prison complex, although given the high number of rifle-equipped soldiers there, it might be best saved for after completion of the main story arc.
Up to four players are tasked with racing to the armoury at the heart of the prison complex before the alarm goes off and the loot is locked down. The more time left on the clock when you get there, the better the quality of loot left in the chests, although you still need to find time to pick the locks before making your escape.
Although this is part of Techland's '10 in 12' line of Dying Light updates planned for 2018, they're counting the map and the new super-zombie as two separate items, bringing us up to 5 of the planned 10 releases out now. A bit cheeky, but best not to look a gift zombie horse in the mouth. It'll probably bite you.
Previous offerings have included a new human enemy faction, a handful of new weapons (including a craftable silenced pistol) and a smattering of player-character skins. If you can be bothered jumping through the extra hoops and logging into Techland's own storefront, Gemly, you can also claim a handful of bonus items and skins in-game, though the redemption process is about three steps longer than it should be.
The Prison Heist mission and Sgt. Deathrow mini-boss should now be in the hands of all Dying Light players, included in the latest patch. The assorted Gemly skins and rewards require a little more legwork to activate.