Megalizards And Mod Manager For Euro Truck Simulator 2
ROAR!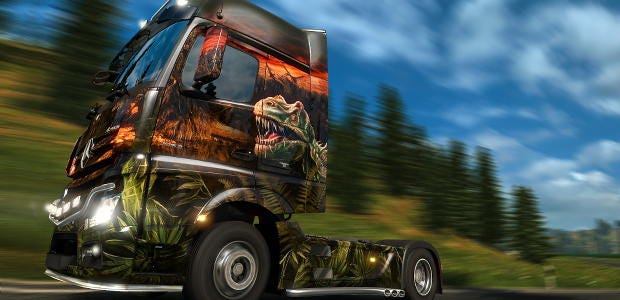 Q: What is green and scaly, weighs 20 tonnes, has a fearsome roar audible a mile away, moves at up to 70km/h, and can haul a load of wood shavings from Felixstowe to Kiel in 14 hours?
A: A truck with a sweet prehistoric paintjob.
A pack of six really very swish dinoskins are now roaring around in Euro Truck Simulator 2 [official site] as a £1.59 DLC pack, which is both cheaper and more fun than Jurassic World. "NICE" I shouted in the RPS treehouse when I saw them. On top of that, developers SCS recently dropped a respectable update adding a mod manager and more.
Seriously, look on Steam at how cool these trucks are. I hope American Truck Simulator gets more into the sort of kooky trucks I've seen on the highways of the US of A. Fingers crossed we'll one day see Japanese Dekotora Simulator too.
Anyway, about update 1.19. Launching last Thursday, it added a mod manager letting folks easily install, remove, and manage mods - which can always be a pain when you're using a lot. It also added two extra cities to ETS 2's Going East expansion, just because. You'll also find new sounds for sticks and buttons in cabs, new wheel sounds for different surfaces, more readable dashboard info in some trucks, and more.
Euro Truck Simulator 2 continues to be one of my favourite games I've never played.